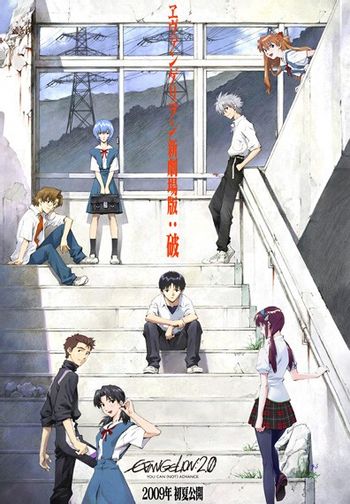 "Breaking the world is easy enough. But rebuilding it, that isn't so easy."
— Kozo Fuyutsuki
In 1993, Hideaki Anno—fresh out of rehabilitation caused by problems during the production of Nadia: The Secret of Blue Water—began work on what he envisioned as a mecha fan's dream show. However, Anno's increasing disappointment and dismissive disdain for the Otaku community, issues in his personal life, and Studio Gainax's financial troubles transformed the show into the brutally-depressing deconstruction of the Super Robot Genre known as Neon Genesis Evangelion. While the result was groundbreaking and insanely popular, his displeasure would lead him to end the work on a pitch-black note with End of Evangelion, leaving a very clear impact on fans.
In 2002, Anno—now happily married to Moyoco Anno, filthy rich and respected by his peers—decided to revisit the most popular and influential anime franchise of the past decade. But this time, he would do so without his depression influencing the story. Anno made plans to re-tell the Evangelion saga by giving his Byronic Hero cast a second chance (literally or figuratively), making them (somewhat) more emotionally stable, and showing them a light at the end of the tunnel. He resigned from Gainax and established Studio Khara, taking some of Gainax's staff with him in the process, and also snagged a massive theatrical budget to help his plan become a reality.
Thus begins the salvation of Shinji Ikari, Rei Ayanami, and Asuka Langley Shikinami in the four-film saga known as Rebuild of Evangelion. In addition to serving as chief director of the films, Anno also wrote the screenplays. The films were directed by Kazuya Tsurumaki, Mahiro Maeda and Masayuki, with Evangelion veteran Toshimichi Otsuki serving as executive producer along with Anno. Ikuto Yamashita once again designed the mecha and Hiroshi Kato reprised his role as art director. The music team from the original series returned; Shiro Sagisu returned to score the films and Mike Wyzgowski worked with Sagisu on the English-language songs. Utada Hikaru also contributed to the soundtrack.
The saga comprises the following films:
Evangelion: 1.0 You Are (Not) Alone.Japanese title (September 1, 2007)
Evangelion: 2.0 You Can (Not) Advance.Japanese title (June 27, 2009)
Evangelion: 3.0 You Can (Not) Redo.Japanese title (November 17, 2012)
Evangelion: 3.0+1.0 Thrice Upon a TimeJapanese title (March 8, 2021)
In spite of Hideaki Anno's improved mental state, Rebuild does not have a Lighter and Softer tone compared to the original series: horrific scenes from the original either stay horrific or become more nightmarish than before. Each Rebuild film exponentially increases the dark tone to a point where people have argued that 3.0 is even grittier than the original series. Though the events of Rebuild don't always turn out well for the protagonists, this retelling seems to offer enough glimmers of hope throughout its plot as a promise that the story won't end up as soul-crushingly devastating as the original show. Think of Rebuild as the original story on proper medication: ultimately no happier than before, but a hell of a lot more stable. At least until a certain point...
1.0 and 2.0 (to a lesser extent) are, aside from some subtle differences, streamlined remakes of the first two-thirds of the original series. After that, in meta-acknowledgement of Eva's ending, Shinji completely changes the direction of the narrative, with 3.0 presenting a very different take on the Angel conflict mixing the remaining third of the original story with tons of new elements, and laying the groundwork for the forthcoming 3.0+1.0, Anno's promised alternative ending for nearly identical characters... If it's not something else entirely. In any case, Hideaki Anno has signaled that the final, 154-minute film in the tetralogy will mark the end of his involvement with the franchise, or at least that he intends to take a break from anything Evangelion-related for a while. In an interview, he claims that while Evangelion will continue to be a mainstay for Khara's output, he wants Evangelion to become like Gundam, to be reconstructed and reinterpreted by many other artists.
Note: When released on home media, each film received a few enhancements to its audio and visuals. The film's number receives an update to reflect this: 1.0 became 1.01 (DVD) and 1.11 (BD), 2.0 became 2.22, and 3.0 became 3.33. The films also received other minor, plot-irrelevant additions. Both sets of numbers are used interchangeably on all the pages related to Rebuild for this reason.
Additionally, this iteration of Evangelion is the basis for the Evangelion parts of Godzilla vs. Evangelion: The Real 4-D at Universal Studios Japan.note The ride uses the Rebuild designs of the EVAs and Asuka is identified as "Shikinami", not "Soryu".
Please move any character tropes to the proper character page. Also, if you choose to continue reading, you can (not) avoid spoilers. You Have Been Warned.
---
The Rebuild of Evangelion films contain Rebuild-exclusive examples of:
open/close all folders
#-M
N-Z
---
---