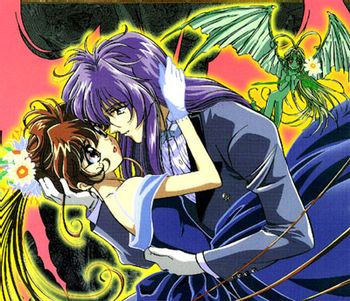 Nightwalker: The Midnight Detective (Mayonaka no Tantei Nightwalker) is a 12-Episode Anime Vampire Detective series. It follows a repentant vampire named Tatsuhiko Shido in his struggle to covertly protect the citizens of his adopted city from other, less friendly creatures of the night. Also worth mentioning is the peculiar composition of the show - it's divided into two portions that don't feel quite alike, and look markedly different. Also it's based on a computer game that barely anyone has heard of. Even in Japan.
Despite the other inconsistencies, the same writers work on the show throughout and the setting remains consistent. It takes place in a Japanese city where our Friendly Neighborhood Vampire Shido works as a private investigator, specializing in supernatural cases - particularly cases which involve a race of demons dubbed Nightbreeds. Joining him are Yayoi Matsunaga, an agent for a anti-Nightbreed organization dubbed the NOS; Riho Yamazaki, a teenage orphan (courtesy of Nightbreeds) who works as Shido's Girl Friday; and Guni, a little green imp with bat wings who often hides in Shido's hair.
Antagonizing them is Cain, the vampire who made Shido what he is today, who still harbors feelings for him.
So what happened with this show? It was initially planned as an OVA, but ended up becoming a TV series by means of tacking on lower-budget episodes to fill it out. Effectively, Nightwalker has two different animation staffs, but attempts to pass itself off as a unified production note Both halves were done by AIC despite this. To go even further, the game it's based on is an HGame - in fact, Nightwalker is the first anime TV series based on an adult gamenote earlier adaptations of this sort are all OVAs. (The game is Japan only (of course) and obscure even by those standards.) In comparison to the game, the anime series is a pleasantly Forever Knight-ed up Alternate Continuity of its source material.
This is also notable being one of the very few dubs Bang Zoom! Entertainment did for Central Park Media.
---
This series contains examples of :
---