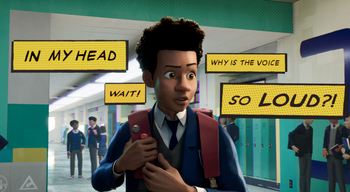 "My best guess is Ang Lee wanted to create the closest thing he could to a comic book, meaning the film literally has panels, speed lines, and elements of space and time overlapping each other. There's just one problem with that, though. If you're adapting a book, would you constantly put words all over the goddamn place? This is way too friggin' literal!"
A work in one medium, that heavily relies on the unique quirks of another, different medium, as if it's trying to remind us all the time that the story is just adapted from another form.
It might happen because the original work is so famous that everyone will think about it in that format anyways: The Bible is a book, Romeo and Juliet is a theater play, Citizen Kane is a movie, Looney Tunes is a series of animated cartoons, and Super Mario Bros. is a video game. If you are making an adaptation of these, your audience won't be fooled into believing that they are watching an equal version to the original, so you might as well stylistically remind everyone that yes, this is a mere imitation of the real deal.
Another cause might be that the original format influences the plot so heavily that it simply wouldn't work in the other format.
Yet, it isn't necessarily an adaptation trope. Maybe the work is just heavily inspired by another medium, and this is why it may try posing as an example, without actually being adapted from it. For example, a television series that is all about how awesome reading is might have "chapters" instead of "episodes", or an anime about video games might have "levels".
Common versions, with their usual traits:
---
Examples:
open/close all folders
Anime and Manga
Films — Animated
Films — Live-Action
Hulk's screen was divided into comic book panels for a scene or two.
Repo! The Genetic Opera appears to follow this trope, but the comic book panels were actually due to budget constraints.
There's a lot of scenes in Unbreakable where characters are pictured in door frames and such, to mimic the frame effect of the comic books that form an integral part of the plot.
The Laurence Olivier film of Henry V is purportedly actually a film of an Elizabethan-era performance of Henry V; at the beginning, we get to see some glimpses of the backstage. As the film goes on, it gets less and less theatrical, presumably corresponding to the audience's increased immersion in the plot.
In Kenneth Branagh's Henry V, The Prologue - which is about making theater magic by suspending your disbelief over the people prancing about on stage pretending to be the real Henry V, etc. - is said in an empty soundstage. Then at the very end: "Who, Prologue-like, your humble patience pray / Gently to hear, kindly to judge, our play!" and he throws open some doors showing a production utilizing the hyperrealism of film.
The Doom movie kept whole scenes in first-person POV, in tribute of the original game, that defined FPS.
Scott Pilgrim vs. The World does this twofold: As a film adaptation of a comic book whose plot runs on video-game logic, it has quite a few video-game elements (scores, extra lives, enemies that turn into coins when defeated, and so on) as well as displaying most of its flashback scenes in the form of animated comic book panels and making extensive use of comic-book style onomatopoeia.
Watchmen has the "Rorschach's Journal" sections that narrate parts of the graphic novel as internal monologue in the movie.
Fight Club is narrated by Edward Norton's character, to mimic the book's first person narration.
The Princess Bride was presented as a movie about a grandfather reading a book to his sick grandson, echoing the novel's Framing Device of annotations in which the "editor" recalled being read the book himself as a boy.
The Royal Tenenbaums parodies this with chapters showing sections from a nonexistent Book of the Film, partly because the movie is inspired by J. D. Salinger's Glass family stories.
The Hitchhiker's Guide to the Galaxy (2005) features several passages which are narrated or read from the guide to preserve jokes that are funnier for how they're described than for what actually happens and to capture memorable passages that can't really be filmed as scenes.
Clue is based on a board game where solving the murder is the point of the game and so, for obvious reasons, the solution is rarely the same twice in a row. When the film was first released, each showing of it had one of three different endings, allowing viewers to see the film twice and get a different solution to the murder each time. (The video release included each of the endings, with title cards between them with captions like, "Or this is how it could have happened...")
Literature
Creatures of Light and Darkness by Roger Zelazny has one chapter that's written as an epic poem and another that's written as a script for a play.
The Invention Of Hugo Cabret is a book about the history of film and was heavily inspired by the author's love of early movies; as a result, most of it is told in the form of pictures, with a Fade In/Fade Out at the beginning and end, and only the bits where there are dialogue are rendered as text.
The UK cover of My Best Friend's Exorcism is designed to look like a badly battered VHS cover, complete with "Be Kind, Rewind" sticker. The back cover blurb gives the impression of a novelization to an eighties movie that just happens to not exist.
A recurring gag in Discworld is to have descriptions include camera movements as different elements are shown/described.
The Hitchhiker's Guide to the Galaxy Trilogy makes a point of the fact that the Guide doesn't just display text, but '"began to speak the entry as well in a still quiet measured voice", an obvious requirement in a radio series.
Live-Action TV
Video Games
Asura's Wrath tries hard to present itself as a playable Anime (to the point that some of the DLC is just anime with Quick Time Events on top, Dragon's Lair style). This includes some rather unusual additions for a video game, like regular On the Next sequences and even Eyecatches in the middle of each stage.
Odin Sphere is framed as a little girl reading a series of books about characters whose stories interconnect, so each character's tale starts with pages flipping and is separated into prologues, chapters, and epilogues. The 2d graphics are also a bit reminiscent of a picture book.
Max Payne was never a graphic novel, but the cutscenes are presented as a dynamic comic strip.
XIII. The whole game has Cel Shading to look like a 2D drawn comic book, onomatopoeic effects and speech bubbles appear during the gameplay,
The sides of most of the stages in Jump Super Stars and Jump Ultimate Stars look like a stack of pulp paper, mimicking the pages of Shonen Jump. Because of this, you can rip the sides away, allowing you to ring out your opponent. As your health goes down, you colors become more washed out as well, becoming greyscale when you only have a sliver of health. And, of course, the Inventory Management Puzzle that uses actual panels from the manga to determine your lineup.
In Comix Zone, an author get sucked into the comic he's drawing by his own villain, who then draws mooks for him to fight throughout the game. Fights happen within panels, along with all kinds of wall breaking.
Anachronox has Super Villain Rictus with a comic-book style intro and narrator cameo.
Split/Second: Velocity, which is set within a fictional TV series, is separated into episodes. Each episode begins with a Precap and ends with an "On the Next..." segment, complete with TV-style narration. There's even a logo for a fictional TV station in the top-right corner.
Tyrian 2000 displays an "INSERT COIN" message in its Attract Mode, though it never was an Arcade Game.
Alan Wake splits itself up into episodes complete with a recap at the start of the next chapter to make itself more like a TV series. The DLC game Alan Wake's American Nightmare has a narrator just to drive home the similarity between the plot and a The Twilight Zone episode.
Rockin Kats, inspired by Saturday morning cartoons, depicts the game world as a television set, with the channels representing different game levels.
Evil Zone is a Fighting Game whose story mode is presented as episodes of a TV series.
Hotline Miami 2: Wrong Number makes several cinematographic references. The levels are called "scenes" and are divided into "acts". In the level selection menu, each level is represented by a VHS tape cover. Pausing the game causes a VHS-style pause effect to appear on the screen, and when the plot moves forward or backward a couple of years, a "fast forward" or "rewind" screen appears. And at the end of the "table sequence" cutscene (shown as an intro when re-playing the game after beating it),

Richard is shown activating a movie projector moments before the game starts.
Webcomics
MS Paint Adventures are presented as Interactive Fiction games.

And as for Homestuck... It's styled as Interactive Fiction, originally was an Interactive Comic (although that has since stopped), is a webcomic that is in style is reminiscent of an illustrated novel, occasionally includes animated features involving sound, and less commonly involves actual games that range from simple Fighting Games to RPG-style games revolving around interacting with various characters. Homestuck isn't just Indecisive Medium, it's Schizophrenic Medium.

morphE is presented as a visual novel. For the most part this is a stylistic choice of presenting narrative and sprites in a way familiar to dating sims and lawyer simulators. It's when there are Pixel Hunt investigation modes and animated cut-scenes that the "comic" part starts to fall apart.
Sonichu sometimes seems to treat itself more as a television series, given its references to "episodes" throughout and how Chris is referred to as its "director".
Web Original
In 2006, BIONICLE had these non-canon on-line animations that, similar to the Hulk movie mentioned above, had shifting comic panels instead of normal transitions, adopted 3D Thick-Line Animation to enhance the effect, and were also a series of mini-games.
Buildingverse fics (like Only A Dream) have the tendency to reference the Art Shifts of the webcomics as "and the art went..." (all straight, chibi, etc.) in their text. Sometimes even other webcomic tropes, like talking about Speech Bubbles and such.
Western Animation
---