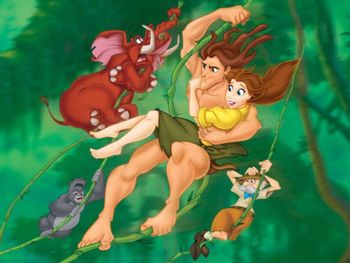 The Legend of Tarzan is a Disney show starring the main cast from the movie Tarzan. It takes place after the events of the film; Jane and Tarzan live in the jungle as husband and wife, along with his gorilla troop and her scientist father. Hijinks ensue.
It adapted several characters and locations from other original Tarzan books and Edgar Rice Burroughs material such as Queen La and the hidden dinosaur world of Pellucidar. An episode even brought Burroughs himself into the action.
Shares the title with a 2016 live-action Tarzan movie.
---
Tropes:
open/close all folders
A-F
G-L
M-R
S-Y
---