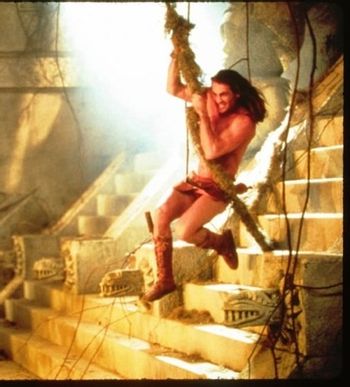 Tarzan: The Epic Adventures was an American TV series based on Edgar Rice Burroughs' Tarzan series that ran in syndication from 1996 to 1997. It's notable for drawing a lot more direct inspiration from Burroughs' books than most other live-action adaptations, though characters and story elements are remixed to fit the show's episodic format (and to soften the racial attitudes). It's also notable for being one of the few Tarzan adaptations filmed in Africa — specifically South Africa — and employing local actors in supporting roles.
The pilot begins similarly to The Return of Tarzan, with Tarzan (Joe Lara) separated from Jane and hanging out in pre-World War I Paris with his friend Paul D'Arnot while tangling with the villainous Russian aristocrat Nikolai Rokoff. After an adventure that takes him and Rokoff back into Africa with a side trip to Pellucidar, Tarzan decides to remain in the jungle, where he goes on to meet other Burroughs creations such as the Waziri, Queen La and the Leopard Men.
The show was cancelled after one season and effectively lost for many years, but in the mid-2010s it resurfaced on Hulu.
---
Tropes: