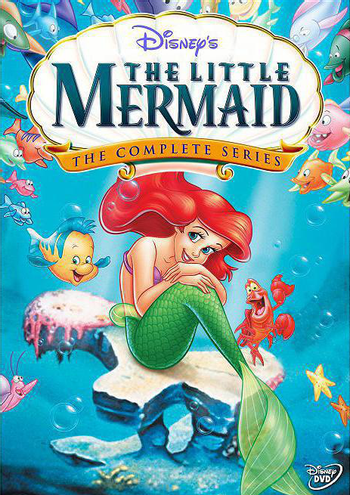 A
Saturday-Morning Cartoon
by
Disney
, based on their 1989
film of the same name
, which ran on
CBS
from September 11, 1992 to November 26, 1994. It was the second (after
TaleSpin
) in Disney's
90's-era
series of TV
spinoffs
of their more popular movies.
note
Unlike
TaleSpin
(but like later entries), however, this cartoon typically keeps continuity with its theatrical source, and acts as something of an
Expanded Universe
, giving backstories to many characters, fleshing out relationships, and allowing them to go on new adventures. It is a direct
prequel
to the movie, being set before Ariel met Prince Eric (but after the subsequent
Direct to Video
movie
The Little Mermaid III: Ariel's Beginning
, which
retcons
some elements introduced in this cartoon, notably how Ariel met Flounder).
As is typical of Disney's TV spinoffs, the tone of this cartoon is considerably lighter and more comedic than the movie on which it's based, but unlike many Disney TV series spin-offs, it kept one element of the first movie: the musical format, as the series was gifted with a new musical number in almost every episode. It also contained more obvious (and bizarre) shout outs – a recurring comic villain was called Lobster Mobster, complete with an Edward G. Robinson imitation voice.
After three seasons totalling 31 episodes, it went into reruns on the Disney Channel. It later ran on Toon Disney and Disney Junior. In 2018, the entire series was released on iTunes and Amazon Video, remastered in 16x9 HD. The series is also available on Disney+.
The show is animated by two different studios: Walt Disney Japan (19 episodes) and Wang, Taiwan (12 episodes).
---
Provides examples of:
---