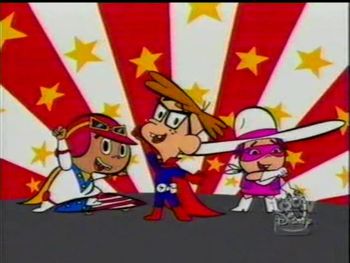 "Shouldn't you children be in school?"
— The Chief
Teamo Supremo (2002-2004) was a Disney superhero comedy cartoon created by Recess writer Phil Walsh that originally aired as part of Disney's One Saturday Morning programming block (right before its transition into ABC Kids), before airing the second half of its run on Toon Disney.
The show follows three schoolchildren named Crandall, Hector and Brenda. After Crandall convinces his friends to join his dream of becoming a superhero, the trio manages to get the approval of the initially reluctant Governor Kevin to become their state's official crime-fighting team: the eponymous Teamo Supremo. Together, as Captain Crandall, Skate Lad, and Rope Girl (respectively), the trio of friends battle any evildoers threatening the safety of their unnamed American state.
The series followed an episodic Two Shorts format throughout its run, but the third and final season would go on to begin a short Story Arc regarding Crandall's "superpowers". A Running Gag throughout the series was Crandall constantly claiming that he's an alien with dormant superpowers, which everyone (including his mother and sister) seems to take in stride. The final episode would reveal that he actually does possess super-strength, but the implications that this might have had were left unresolved as a result of the series' cancellation.
These days, Teamo Supremo is probably the most forgotten show to come out of Disney Television Animation during the early 2000s, if not all-time. During its run, it saw little audience attention, with detractors comparing the cartoon unfavorably to The Powerpuff Girls (despite the two series sharing few elements, if any, outside the "three kid superheroes premise" and the UPA-inspired Thick-Line Animation). The series also suffers from a bad case of Keep Circulating the Tapes, with much of the third season of the show being considered lost/missing media.
---
Trope me, Brenda!
"Eureka!" Moment: In "The Sinister Substitute", when Mrs. Crandall comments on the kids' excessive homework being "almost criminal", the kids' realize Madam Snake has replaced Mrs. Woolingantz.
Mass "Oh, Crap!": The heroes that would have auditioned to protect the city in the pilot run out of the governor's mansion screaming when Crandall screams "Baron Blitz is here and he's got a giant robot!"
---