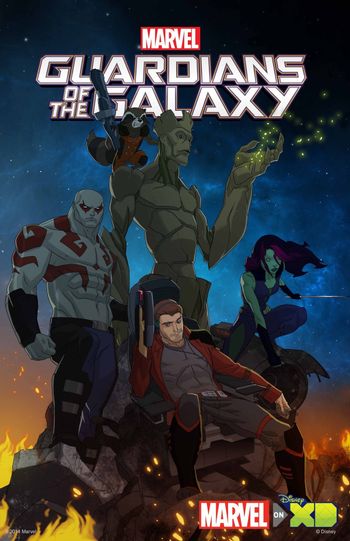 Rocket
: What are we, heroes or outlaws?
Star-Lord
: Why not both?
— "The Road To Knowhere"
Guardians of the Galaxy is an animated series created for Marvel on Disney XD. Described as a loose sequel to the film, but set in the same Shared Universe as its fellow animated series, the show follows Star-Lord, Gamora, Drax, Rocket Raccoon, and Groot as they fight the forces of Thanos.
A series of animated shorts
has been released through Marvel's YouTube channel. The series premiered on September 5, 2015 and ran for three seasons, finally ending in June 2019 with 77 episodes total.
---
The series provides examples of:
The webisodes provide examples of:
---