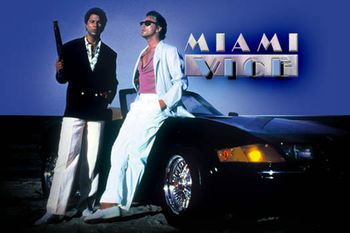 Sonny Crockett: Hey, Tubbs, you ever consider a career in Southern law enforcement?
Rico Tubbs: [chuckles] Maybe. Maybe...
Miami Vice is a Crime Drama Buddy Cop Show which ran on NBC from 1984-1989. Created by former Hill Street Blues writer and producer Anthony Yerkovich, with Michael Mann as the Executive Producer, the series drew much of its premise from real-life laws allowing property seized from drug dealers to be used in drug enforcement. In other words, if a drug dealer has a Cool Car or Cool Boat, and that drug dealer is jailed, the police can use his stuff. These laws gave the producers a perfectly valid excuse for putting their public-servant characters in Ferraris and Armani suits.
The series stars Don Johnson and Philip Michael Thomas as James "Sonny" Crockett and Ricardo "Rico" Tubbs, two pastel-colored officers of Miami-Dade PD's vice squad, as they chase down drug lords, pimps, renegade FBI agents, weapon smugglers, militia members, and other badly-dressed criminals whose downfall is to be ignorant of Miami's worst-kept secret: psst, these two are actually cops.
Crockett's the muscle, a former wide receiver with a personality not unlike his namesake (he even owns an alligator). Tubbs is a New York transplant who arrives in Miami to avenge his brother's murder; he specializes in... well, posing as an out-of-towner and getting it on with a parade of beautiful ladies. Together, they fight crime.
The series was notable for its use of contemporary popular music, and for being one of the first shows regularly broadcast in stereo. By design, the show often resembled a music video rather than a standard Police Procedural. Extended musical sequences were common, often featuring little or no dialogue and numerous images of cars, boats, guns, nightlife, and scenery. The show was filmed on location in Miami, and made use of a distinctive color palette, mostly white and pastels.
Miami Vice was one of the most influential (perhaps the most influential) TV series of all time when it comes to style and fashion. Crockett's white-suit-over-t-shirt style, Perma-Stubble, and Ray-Ban sunglasses all became fashion trends. His lack of socks did notnote Come the 2020s, however.... Even several decades later, many people's ideas of the 1980s come straight from the show (which explains why many people tend to have a rather exaggerated idea of the period — not everybody dressed like the prostitutes and drug dealers of the series).
A film of the series was released in 2006 starring Colin Farrell as Crockett and Jamie Foxx as Tubbs.
---
Miami Vice features examples of:
---