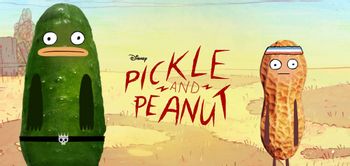 Pickle and Peanut is a cartoon by Noah Z. Jones (Fish Hooks, Almost Naked Animals) and Joel Trussell airing on Disney XD.
It's pretty much what it says: a comedy about two teenaged best friends that just so happen to be anthropomorphic food items. On one hand, you've got Peanut (Johnny Pemberton), a bold dreamer and schemer who, for better and worse, puts his hyperactive energy into almost everything he does. On the other, there's Pickle (Jon Heder), a soft-spoken, sentimental fellow that typically takes it slow on his own, but is usually game for joining Peanut's escapades (and vice versa).
Each episode revolves around the odd couple's strange misadventures, be it at their grocery store job, bumming around the neighborhood or out on the road. Between Pickle's kindhearted, uncomplicated nature and Peanut's riotous ambitions, the two often get themselves into unusual situations from things as simple as learning to swim or trying to fit in with the cool kids.
The show started in September 2015, with its first season airing until the following July. After airing its Halloween special in October 2016, the show went on hiatus until the second season premiered a year later.
The show ended its second and final season
on January 20, 2018.
---
Bo! Bo bo bo! Pickle and Peanut provides examples of these tropes: