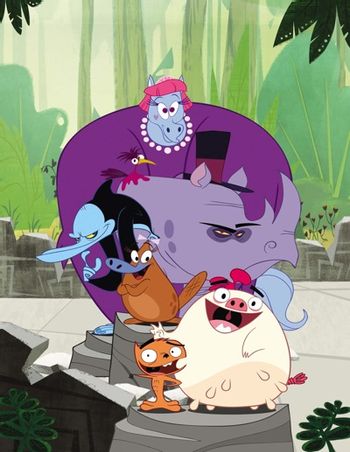 "On a tiny little island in the ocean called Pacific
There's a mixed up group of creatures who are really quite horrific
Stitched together with whatever crap was found or could be grabbed
Reinvented in the bowels of a lab..."
Once upon a time, there lived a Mad Scientist who spent his weary days on a secluded island in the middle of the Pacific Ocean. To occupy his time, he created mutants, Mix-and-Match Critters, and other biological abominations that stood against all notions of sanity and common sense. But it was only a matter of time until the judicial system caught whiff of the whole situation and arrested him for his crimes against nature and "good taste". With their master forever gone from their lives, the mutants, with only limited knowledge of the outside world and their customs, are left to construct a civilization of their own. Of course, Hilarity Ensues.
Spliced is a quirky Canadian animated television series from Nelvana created by cartoon writers and Grossology developers Simon Racioppa and Richard Elliott for Teletoon. Inspired by H.G. Wells' The Island of Doctor Moreau and the Zany Cartoons of decades past, the series stars a dimwit duo consisting of the naïve optimist Peri and the selfish gourmand Entree, whose shared misadventures around the setting of Keepaway Island result in all manner of insane occurrences from bowling pin aliens and possessed golf carts to mayonnaise monsters and brain-sucking squids. Starring alongside the pair is an equally bizarre ensemble of characters, including ill-tempered half-rhino mayor Two Legs Joe; Patricia the Only Sane Platypus; ineffectual evil genius chimp-dolphin Mister Smarty Smarts (and his henchwoman Octocat); the cute but long-suffering Fuzzy Snuggums; and Princess Pony Apehands, a hulking brute with the mindset of a little girl.
The series ran on Qubo and on the Cartoon Network website in the United States, Disney XD in Mexico, Brazil & Spain, Nickelodeon in Sweden and Norway, ABC3 in Australia, Nicktoons in UK & Ireland, and Teletoon in its native Canada. However, it was canceled after a single season of 26 episodes, despite getting some very good ratings in its home country.
Compare to Disney's The Wuzzles, another short-lived animated series about Mix-and-Match Critters. Not to be confused with the sci-fi horror film Splice.
---
Spliced provides examples of:
---