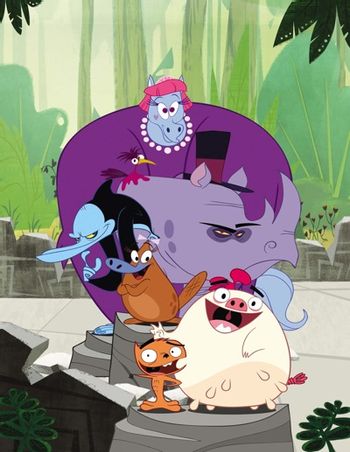 "On a tiny little island in the ocean called Pacific
There's a mixed up group of creatures who are really quite horrific
Stitched together with whatever crap was found or could be grabbed
Reinvented in the bowels of a lab"
Once upon a time, there lived a Mad Scientist who spent his weary days on a secluded tropical island in the middle of the Pacific Ocean. To occupy his time, he created mutants, Mix-and-Match Critters, and other biological abominations that stood against all notions of sanity and common sense. But it was only a matter of time until the judicial system caught whiff of the whole situation and arrested him for his crimes against nature and "good taste". With their master forever gone from their lives, the genetic hybrids and oddities he made, with only limited knowledge of the outside world and its customs, are left to form a society of their own. Of course, Hilarity Ensues.
Spliced is a crazy Canadian animated television series from Nelvana that was created by cartoon writers Simon Racioppa and Richard Elliott (who had previously also developed Grossology for television). Inspired by H. G. Wells' The Island of Doctor Moreau and the Zany Cartoons of decades past, the series is headed by two best friends, the naïve optimist Peri (a failed experiment of The Doctor with a genetic makeup unknown even to himself) and the self-centered gourmand Entree (a walking amalgamation of cow, pig, chicken, and shrimp made to be the perfect food animal). While neither of the two are especially bright (Entree moreso than Peri), they do find plenty of shared misadventures around the setting of Keepaway Island lead to all manner of insane occurrences and wacky mishaps.
As every bit as bizarre as the things that happen around Keepaway Island however is Peri and Entree's ensemble of co-stars. Thse include: Two-Legs Joe, the ill-tempered front half of a rhinoceros who acts as "mayor" for the mutants; Patricia, a platypus who also happens to be the most normal creature on the island; Mister Smarty Smarts, a chimpanzee-dolphin and self-declared brainiac with dreams of island domination (usually accompanied by his henchmutant Octocat); Fuzzy Snuggums, a Ridiculously Cute whatsit whose love of exploring is only matched by his terrible luck, and Princess Pony Apehands, a hulking brute with the body and strength of King Kong and the head and mindset of My Little Pony. Oh, and there's also a super-genius computer-horse who moves and talks like Stephan Hawking, a literal Killer Rabbit with More Teeth than the Osmond Family that sometimes tries to eat the other characters, swineapples, whale-squirrels, an active volcano, and plenty of leftover bits of killer tech from the Doctor's lab, among other strangeness. One thing's for certain though. With a cast of creatures as deranged as the scientist who created them living on island that can be called anything except ordinary, you can only imagine how madcap things can get.
The series saw broad international distribution throughout 2009, running on Qubo in the United States, Disney XD in Latin America and Spain, Nickelodeon in Scandinavia, ABC3 in Australia, and Nicktoons in the British Isles, among other places. In fact, the show would not arrive in its native Canada until April 2010, where it aired on Teletoon. However, it was canceled after a single season of 26 episodes, despite getting some very good ratings in its home country. Nonetheless, the show is fondly remembered by a decent number of people, even if it remains one of Nelvana's more obscure creations.
And no, this is not an Animated Adaptation of the sci-fi horror film Splice, even if they do both feature genetically-engineered hybrid freaks of nature.
Compare to Disney's The Wuzzles, another short-lived animated series about Mix-and-Match Critters.
---
Spliced provides examples of:
---