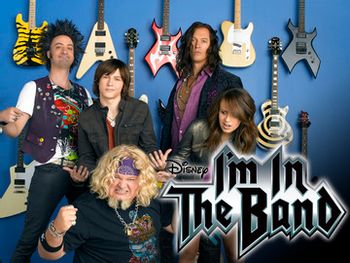 I'm in the Band
is a TV series on
Disney XD
about 15-year-old guitarist, Tripp Campbell who won a chance to meet his favorite rock band, Iron Weasel. He learns that lead singer Derek Jupiter, bassist Burger Pitt and drummer Ash Tyler haven't had a big gig in years and now live out of their tour van. Tripp asks to join their band after their original lead guitarist, Bleed broke up with them. They say no at first but after showing them his guitar playing skill, and convincing his single mom into letting them live with them, they accept. Tripp is also taking point on securing new gigs for Iron Weasel and trying to make them popular again.
But yeah, the thing about Derek, Burger and Ash, they're lazy, shallow, stupid (mainly Ash) and incredibly childish. Tripp's best friend, Izzy Fuentes, an aspiring singer and borderline-obsessive rock fan, can help the situation or make things worse. Add to the fact that most of Tripp's ambitious plans for Iron Weasel backfire and Hilarity Ensues. It is chronologically the sixth and most recent series in the Disney Channel Live-Action Universe. Has a Crossover episode with The Suite Life on Deck.
Only lasted two seasons and was cancelled due to low ratings.
The main cast:
Tripp Campbell (Logan Miller)
Burger Pitt (Greg Baker)
Ash Tyler (Stephen Full)
Derek Jupiter (Steve Valentine)
Izzy Fuentes (Caitlyn Taylor Love)
---
I'm in the Band provides examples of:
---