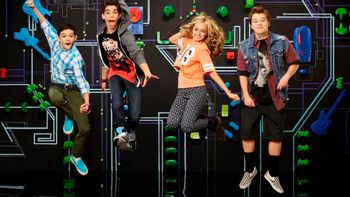 Gamer's Guide to Pretty Much Everything
is a
Kid Com
on
Disney XD
starring
Cameron Boyce
of
Jessie
fame that premiered on July 22, 2015 and concluded on January 2, 2017 after two seasons. Its premiere occurred alongside a
Lab Rats
/
Mighty Med
Crossover
.
In this series, Cameron plays Conor, a teenage professional gamer who is forced into retirement due to a thumb injury and must now navigate life as a regular student. Along the way, he runs into three fellow gamers — Wendell, Franklin and Ashley — who he convinces to help him try to rejoin the professional gaming circuit and they soon form their own professional gaming clan. The show is presented through a framing device within the context of Conor's viewpoint, which usually takes the form of a video game interface.
On January 10, 2017, it was annouced that the show was cancelled
.
This marks Boyce's last TV series as a main cast member before his unexpected passing in July 2019.
---
Tropes in Gamer's Guide To Pretty Much Everything:
Ragtag Bunch of Misfits: Conor assembles a new crew of avid gamers to help him compete again. Now, they are recognized as an official gaming club in their school.
Save Our Team: Conor has to prove the validity of the gaming club to the principal by proving they can win a competition against another school.
Special Guest: Chopper of Star Wars Rebels is featured in The Has-Been's Back.
Why We Can't Have Nice Things: In The Gaming Club, Doyle gets overzealous and pours drink over Conor's gaming equipment. This leads Conor to say the trope verbatim.