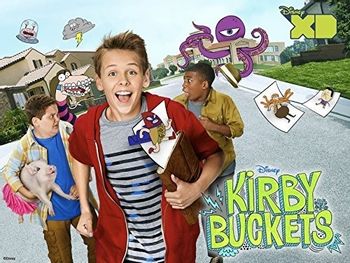 Kirby Buckets is a Kid Com that airs on Disney XD.
The series follows Kirby Buckets (Jacob Bertrand), an aspiring animator with an overactive imagination. Kirby and his friends, Fish and Eli, often find themselves involved in unpredictable escapades at school, while Kirby's drawings provide a sort of commentary on the various events. The show follows a basic formula each episode, usually with Kirby causing or encountering some kind of problem that usually gets resolved by the end of episode.
Also notable is the mixed-media format of the show with animated characters based on Kirby's creations often coming into the scene. In this way it can be seen as similar to Out of Jimmy's Head (except more successful) or a Spear Counterpart to Disney's own Lizzie McGuire.
Confirmed to be part of the Disney Channel Live-Action Universe through a Red Skies Cross Through event.
The show premiered on October 20th, 2014 and was renewed for a second season in January of 2015. The series was confirmed for a third season over the summer of 2016, and premiered in early 2017 under the title Kirby Buckets: Warped.
---
Tropes