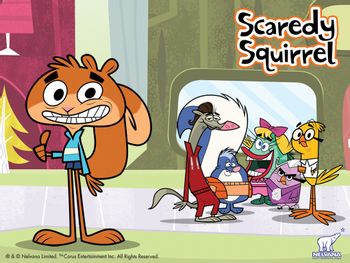 Scaredy Squirrel is a Canadian animated series by Nelvana. It is very, very, very loosely based on the children's picture book series of the same name by Quebec author Mélanie Watt, who also helped a bit with work on the series.
The show is set in a World of Funny Animals. The eponymous protagonist, Scaredy Squirrel, is an energetic and Super OCD squirrel who lives in Balsa City and works as a stacker in the local supermarket, Stash N' Hoard under his boss, an ill-tempered canary named Nestor (whose mother is the store's owner). When not on the job, Scaredy has adventures around town with his best friend, a fat, dimwitted slob of a skunk named Dave, while also frequently dealing with a trout named Sally who has a crush on him and an egotistical ferret named Paddy.
To celebrate April Fools' Day on Friday, April 1, 2011, YTV aired a special sneak peek episode of Scaredy Squirrel in Canada. Then on Sunday, April 3, 2011, YTV officially premiered Scaredy Squirrel. The series then premiered on Cartoon Network in the United States on August 9, 2011 (proceeded a mere month earlier by fellow Nelvana creation and YTV cartoon Sidekick, part of a general trend at the time of CN heavily importing Canadian cartoons). Also like Sidekick, Qubo picked up the remainder of the series a couple years after CN had stopped airing new episodes. It ran for for 52 episodes over 3 seasons, coming to an end on August 17, 2013.
---
Scaredy Tropes:
---