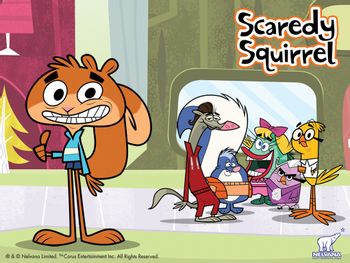 Warning: Scaredy Squirrel is based on character by Mélanie Watt!
Scaredy Squirrel is a Canadian animated series by Nelvana. It is very, very, very loosely based on the children's picture book series of the same name by Quebec author Mélanie Watt, who also helped a bit with work on the series.
The show is set in a World of Funny Animals, specifically Balsa City, where the buildings are made from trees and the roads are rivers that citizens drive on with boats made from logs. The eponymous protagonist, Scaredy Squirrel, is a good-natured but overly cautious and obsessively cleanly squirrel who works as a stacker in the local supermarket, Stash N' Hoard, under his boss, an irritable canary named Nestor (whose super-controlling mother is the store's owner). When not on the job, Scaredy has adventures around town with his best friend, a laidback but dimwitted slob of a skunk named Dave, while also frequently dealing with a trout named Sally who has a crush on him and an egotistical ferret named Paddy.
To celebrate April Fools' Day on Friday, April 1, 2011, YTV aired a special sneak peek episode of Scaredy Squirrel in Canada. Then on Sunday, April 3, 2011, YTV officially premiered Scaredy Squirrel. The series then premiered on Cartoon Network in the United States on August 9, 2011 (proceeded a mere month earlier by fellow Nelvana creation and YTV cartoon Sidekick, part of a general trend at the time of CN heavily importing Canadian cartoons). Also like Sidekick, Qubo picked up the remainder of the series a couple years after CN had stopped airing new episodes. It ran for for 52 episodes over 3 seasons, coming to an end on August 17, 2013.
In 2023, Nelvana began uploading episodes of the series to their Treehouse Direct channel on Youtube.
---
Scaredy Tropes:
Broken Aesop: While the show is usually Aesop-rich, at least one episode (the one with the golden paddle ball) has the characters not learn the lesson obviously set up, with Dave dropping a similar but unrelated aesop, then both lessons forgotten in the next few seconds.
Canon Foreigner: With the exception of Scaredy himself, not a single character in the show was in the original books.
Dream Deception: In "Cowlicked", Scaredy has a cowlick and wonders what could've caused it. He has an Imagine Spot of a cow licking the top of his head while he's asleep. He wakes up and sees her, but she awkwardly tells him he's dreaming as she backs out of the room. At the end of the episode, that same cow licks Scaredy's new trophy, and she tells Scaredy this is a dream as she backs away again.
The Ending Changes Everything: The ending of "Stack to School" is one big Homage to The Usual Suspects. After failing multiple times to show that he can be spontaneous, Scaredy passes his spontaneity class by racing to and performing a daring rescue at the Stash n' Hoard. It's only after Scaredy receives his diploma and leaves that his teacher realizes that Scaredy had orchestrated the entire thing (and therefore wasn't spontaneous at all).
Fat and Skinny: Best friends Dave and Scaredy, with Dave being the fat to Scaredy's skinny.
Kissing In A Tree: Dave to Scaredy after he swoons over Sue, in his own special 'Dave' way: "Scaredy and Girl Scaredy sitting in a tree! K-I-S-S-S-S...uhhhhh"
Mundane Made Awesome: In-universe, paddleball is a competitive sport.
---