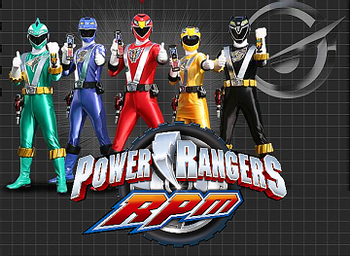 The 17th season of the Power Rangers franchise, RPM used footage from Engine Sentai Go-onger. In an alternate present to the main Rangerverse, the Venjix computer virus has taken over nearly all of the Earth's technological systems and built robotic forces to subjugate mankind. Humanity's last stronghold is the city of Corinth, which is protected by a force field dome, as well as its own elite team of Power Rangers that take down whatever raids make it through the shield. But Venjix technology is continually advancing, and without more forces even the Rangers may not be able to hold on for much longer...
RPM was, quite simply, a make or break season for the franchise and the breaking point for the company that owned it. Disney by this point had made it clear they were tired of Power Rangers, considered it a "black sheep" in their portfolio and was prepared to cancel it after Bruce Kalish left the show, but Bandai stepped in to give their Cash-Cow Franchise at least one more season. Still, Disney shunted the show -- including reruns of past seasons -- off their cable channels (particularly their new Disney XD rebranding) and onto ABC, where it was subject to pre-empting for sports. Adding to the conflict, the first Executive Producer Eddie Guzelian was fired midway through the season over "creative differences" with Disney. Former Rangers writer and producer Judd Lynn, who was a big part of the series' improving during the Saban days, came in to replace him.
The season made several references to series tropes and past Ranger seasons, particularly in finally defining the Meta Origin that's been present since day one. It also scaled back the excessive Calling Your Attacks and Stuff Blowing Up that had gotten out of hand in the last few seasons, as well as throwing in a healthy dose of Lampshade Hanging (particularly, hanging 'shades on the attack calling and explosions).
RPM originally was indeed the end of the franchise, with Disney officially cancelling it in March 2009. They eventually announced they would instead air a Re-Cut version of the first season of Mighty Morphin' Power Rangers. It was only a few months after the series ended that Saban announced that they had re-acquired the franchise and had begun work on Power Rangers Samurai.
RPM would later have a team up with Samurai called Clash of the Red Rangers. Only Scott appears, and even then he doesn't demorph for the entire movie. The Super Mega Rangers visited Corinth in the second half of Super Megaforce, but it looked completely different due to using Gokaiger footage. Eventually, RPM would have a more proper team-up in the Power Rangers Ninja Steel 25th Anniversary crossover episode "Dimensions in Danger," with Gemma making an appearance for the RPM Universe. It also received something of a Creator-Driven Successor in Power Rangers: Beast Morphers.
With its After the End premise in a franchise that had already been seen to have a shiny, happy future, the time setting of this season was ambiguous until these crossovers established that it took place in a parallel universe to the one most Power Rangers seasons take place in, with the later season Dino Charge taking place in yet another one.
RPM was the last season to feature music by Leigh Roberts and Wayne Jones, the last to feature Koichi Sakamoto as an executive producer, and the last to use the services of writer Jackie Marchand.
If you're interested in what the cast and crew did later, check out the indie horror movie Blood Punch, which features several RPM actors, writers, crew members, and original producer Eddie Guzelian.
---
Recurring Power Rangers tropes include:
---
This subseries contains examples of:
---