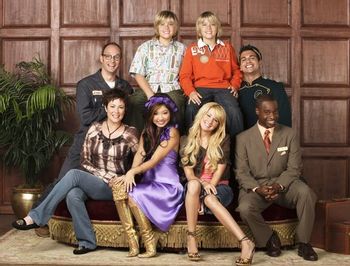 "Six thousand dollars an hour doesn't seem like much, but after a while, it starts to add up!"
— London Tipton
The Suite Life of Zack & Cody (2005-2008) is a Disney Channel Kid Com about a couple of twins named Zack and Cody Martin (played by twins Dylan and Cole Sprouse, respectively) who live in The Tipton, a hotel in Boston. Their divorced mom Carey is a singer at the hotel who has a secret admirer in a rather dorky janitor named Arwin. Also at the hotel are two teenage girls, London, the moronic heiress to the hotel chain, and Maddie Fitzpatrick, a candy-counter girl who struggles to make sure she completes school as well as juggling very degrading jobs. The hotel is run by Mr. Moseby, who rarely tolerates the twins' antics. It was chronologically the second series in the Disney Channel Live-Action Universe.
After the show ended in 2008, it continued with a Sequel Series called The Suite Life on Deck, putting half of the cast on a luxury liner to attend the onboard Seven Seas High School, with other original characters visiting on occasion. It also added Bailey Pickett (who basically replaced Maddie), a smart girl from a small Kansas farm often made fun of by London (and serves as Cody's Love Interest); Woody, a clumsy but well-meaning (and disgusting) classmate made fun of by everyone and Ms. Emma Tutweiller, one of the teachers at Seven Seas High made fun of by her own students (and eventually Mr. Moseby's Love Interest). Meanwhile, reruns of the original show have popped up on Disney XD. Both series also participated in massive Crossover events with other shows on the channel: The Suite Life of Zack & Cody had That's So Suite Life of Hannah Montana and On Deck had Wizards On Deck with Hannah Montana. I'm in the Band also has a crossover episode with On Deck (unlike the others, this consisted of only a single episode that aired as a part of I'm In The Band only).
After 3 seasons, On Deck ended in 2011 with the twins and the rest of the Seven Seas High students celebrating their graduation. The same year, The Suite Life Movie was released as a Big Damn Movie with a surprisingly dramatic plot rooted in Science Fiction.
If the original series and the sequel are counted as a single series, it's had the longest original run of any series on the Disney Channel, at six seasons and 162 episodes total (though by sheer episode count and total number of calendar years on the air, it is surpassed only by Phineas and Ferb).
---
Examples:
open/close all folders
Tropes in The Series
Acquaintance Denial: In "Commercial Breaks", when the Martins are on line to audition for a Tipton commercial, and Carey recognizes the director as an ex-boyfriend.

Carey: I can't believe it. I know that director! I once had a date with him!

Cody: Remember to mention we're your kids.

Carey: He hates me.

Zack: And your name was...?

Acquainted in Real Life: In one episode, Zack is surprised to discover that his MMORPG partner is Mr. Moseby.
Tropes in The Suite Life of Zack & Cody
Tropes in The Suite Life on Deck
Tropes in The Suite Life Movie
---