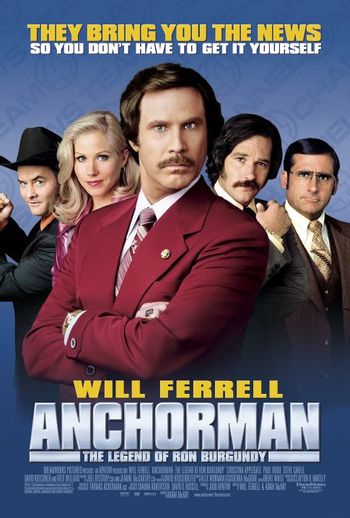 Anchorman: The Legend of Ron Burgundy is a very memetic 2004 DreamWorks SKG comedy produced by Judd Apatow. It was the first of many collaborations between director/co-writer Adam McKay and star/co-writer Will Ferrell.
It is the 1970s, the age of strange haircuts, polyester, wide lapels, and swinging bachelors. Ron Burgundy (Ferrell) is the somewhat demanding top anchor of the #1 news program in San Diego, and respected throughout the city.
One day, due to a lack of diversity, Ron's boss (who is having problems with his son doing dangerous things) hires a new female co-anchor, Veronica Corningstone (Christina Applegate). Burgundy (like most males in the film) is sexist, and so it's near-hatred at first sight. It doesn't help that the gorgeous lady wants to be a serious newscaster, but is assigned stories about cat fashion shows.
What evolves is a Slap-Slap-Kiss situation. Burgundy falls for Veronica, and she for him, and they try to make things work even while the news is still happening.
Oh, and there is lots of '70s style decadence, often with a dark side. Notably, the film is a rare example of a period comedy that completely and utterly averts Politically Correct History; not only does it acknowledge the casual sexism and homophobia of the 1970s, it's actually central to the plot—since it's ultimately all about a clueless buffoon who feels threatened by an ambitious female rival.
Among other things, the film is notable for being one of the more famous efforts by the Frat Pack, a loosely organized group of popular comedians who worked together in many of the more successful comedy films of the late 1990s and early 2000s. Will Ferrell was a defining member of the group, but Vince Vaughn (who plays Ron's rival) was also a major player, and supporting members Jack Black, Ben Stiller and Luke Wilson all appear in memorable cameos. Interestingly, it also helped jumpstart the directorial career of Judd Apatow, who would dominate Hollywood's comedy scene in the latter half of the decade; Apatow met Steve Carell (who plays Ron's idiotic coworker Brick) while producing this film, and invited him to play the leading role in his big directorial debut.
A straight-to-DVD sequel was made with various outtakes, unused plot concepts, and clips from the final movie called Wake Up, Ron Burgundy. The plot concerns a radical team of bank robbers being investigated by the Action 4 team. They refer to themselves as "The Alarm Clock", seeking to "wake up" San Diego.note Though to what end is unclear... even to them. The companion movie was packaged with the original for its DVD release.
Eight years after its release, Ferrell showed up in character on Conan to play some jazz flute. He also announced they were finally making a sequel. Anchorman 2: The Legend Continues. It was released on December 18, 2013, with the main cast returned to reprise their roles. Released alongside the film is the Expanded Universe book Let Me Off at the Top!!, a memoir "written by" Burgundy that further fleshes out the character and his world from his childhood up through The New '10s. It's exactly as bizarre as you think.
Since January 2019, Ferrell has portrayed the title character in The Ron Burgundy Podcast, currently streamed by the iHeartRadio Podcast Network. The show received an initial order of 24 episodes over two seasons, and is now (July 2022) in its fifth season.
A Kickstarter campaign for a party game
, Anchorman: The Game was held in 2020.
---
The following are based on actual tropes. Only the included names, locations and tropes have been changed:
---
Tropes in Wake Up, Ron Burgundy: