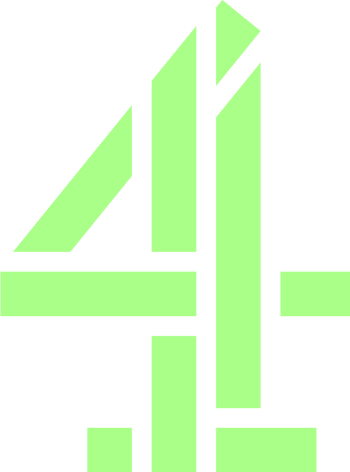 The fourth British television network and second commercial network, after the two BBC channels and ITV; also one of the big five UK TV channels to have been available free to air before the start of digital broadcasting.
When British TV switched to UHF in the 1970s four frequencies were allocated to each transmitting site, but political wranglings and other issues kept the fourth channel vacant for many years, with all sorts of plans proposed in the meantime. Eventually, in 1982, Channel 4
was created by the government to break the duopoly of The BBC and ITV, with a mandate to produce innovative, distinctive and arty programs. The initiative arrived just in time to take the final coveted terrestrial space (until years later when the development of technology allowed the creation of Channel 5).
It is publicly owned like the BBC but unlike the BBC it does not get public funding. Until 1992 it was funded by the ITV companies, who in turn sold advertising on the channel (and would cross-promote each others' programmes). Since then it has been independent, funded by its own advertising revenue.
Channel 4 did not become a UK-wide service until 2010. At the time that the service that became Channel 4 was considered, a movement developed in Wales for a dedicated service to air Welsh-language programmes. The result was that Channel 4 as seen in the rest of the UK was replaced in Wales by S4C (standing for Sianel Pedwar Cymru, translating to "Channel 4 Wales"), a network operated by a separate public authority that actually went on air the day before Channel 4. Due to limited frequency space, Channel 4 could not be broadcast alongside S4C, though some Channel 4 content would be aired at off-peak hours on the Welsh network. When Wales became the first part of the UK to fully transition to digital TV, S4C began broadcasting exclusively in Welsh, and the main Channel 4 became available in Wales.
In its early years it was mocked as "Channel Bore" for its perceived ultra-intellectual high-culture slant, and also mocked for its early red triangle on-screen graphic warning for potentially disturbing material, which many people viewed as a euphemism for Euroshlock. During the 1990s it moved in a more ratings-driven direction and came under sustained attack by Moral Guardians as "Channel Swore" or "pornographers to the nation" for the sexually-explicit and sexually libertarian nature of some of its comedy and drama programmes, including the debauched light-entertainment shows The Word and Eurotrash and the pioneering prime-time gay drama Queer as Folk (UK). More recently it has become well-known as the British pioneer of Reality TV, including the UK version of Big Brothernote until it moved to Channel 5 in 2011, as well as Candid Camera Prank shows, with the likes of Derren Brown and Bad Robots airing on the channel. This and other developments led to some criticism that it had become too ratings-driven and abandoned its traditional interest in the arts and quality documentaries.
It now exists as a number of channels on cable and digital as well.
Channel 4
Channel 4 +1
E4 (Entertainment 4)

E4 Extra (which airs the extra programming that originally aired on 4Music)

Film 4 (through whom they have produced a significant number of cinema films with their company Film4 Productions)
More 4
4Music
4seven
It was the first network in the UK to create virtually none of its own programmingnote Right To Reply (1982-2001) is the only series Channel 4 produced itself note however Channel 4 is able to retain full copyright on most programmes, giving it valuable DVD and international rights (as part of their original charter from Parliament, BBC was to educate and entertain, ITV to allow competition, and Channel 4 to allow smaller production houses to have somewhere to sell to) allowing smaller production houses to take off and for US imported programming to appear (although American series were fairly prominent in prime time on both the BBC and ITV until the '90s). It also exists to provide a platform for programmes catering to minorities such as audiences of colour, people with disabilities and the Queer community. While it has drifted from this aim, it's never fully abandoned it.
Channel 4 also usually means controversy. It holds the current record for channel with the most complaints about one of its shows (for Celebrity Big Brother). It does an "Alternative Queen's Speech" every Christmas and has wandered into the realms of sex far more than the other channels.
Despite that, Channel 4's most famous show is still the first one that was shown when it began transmitting: Countdown.
It has been the UK licensee of some significant US shows over the years, especially Fox, NBC and Comedy Central ones, including Friends, Futurama, Scrubs, King of the Hill, ER, Family Guy, Angelnote A notorious disaster due to a severe case of What Do You Mean, It's Not for Kids?, and South Park. Friends in particular was subject to a severe case of Adored by the Network, with parodies suggesting that Channel 4 would shut down after airing the last Friends episode in 2004.(The channel wisely passed on Joey letting Channel 5 have it.) In 2013 it achieved a first for a UK free-to-air network by licensing Agents of S.H.I.E.L.D. and getting permission to broadcast the episodes in the same week as their original US airing (which is rare even today for serialised programs, unless the show is a co-production). With hindsight, this was likely to avoid spoilers from across the pond brought about by Captain America: The Winter Soldier, the events of the film greatly affects the series. In 2016, it launched a free-to-view streaming service, "Walter Presents", specialising in upmarket drama from non-Anglophone countries, which was marked with a traditional broadcast of Deutschland 83.
Its Channel 4 News is traditionally viewed as the most left-leaning and anti-establishment of the major UK channels' news broadcasts, although it stays within the tight boundaries laid down by UK regulators on overt partisanship in TV news.
Its original on-air look was the first in Britain to use computer animation (the "blocks"), which kick-started a trend for CGI among all the other broadcasters right after. It also made designer Martin Lambie-Nairn into a major branding figure. It was phased out by 1996, and several more looks followed, with their late 2000s look using optical illusions and CGI to show the logo being formed in real-life situations. But 2017 saw a new set of idents with perhaps one the most bizarre, yet endearing, concepts for idents ever: turning the logo into a humanoid creature
and its' interactions with people (like bellowing the Fourscore melody, causing the residents of a nearby town to get buffeted by the force). In 2023 Channel 4 underwent a major rebrand that introduced a new neon-green logo, replaced All 4 as the name of the streaming app with Channel 4's own name (apparently done to increase brand recognition among younger viewers) and debuted a short film called "The Island Life"
that featured an infinite loop through 25 different takes on Channel 4's logo. The individual scenes of the film make up the channel's new idents
.
The channel also has a production base for animation, see Channel 4 Animation.
Channel 4 Productions:
<!—index—>
<!—/index—>
---