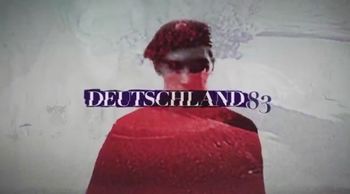 Deutschland 83 is a German eight-episode Spy Fiction Thriller that revolves around an East German spy named Martin Rauch who is sent to work in West Germany undercover as a military aide-de-camp named Moritz Stamm. It premiered on June 17, 2015, on Sundance TV, making it the first German-language series to air on a U.S. network.
The show has received very positive reviews, with a 100% rating on Rotten Tomatoes, an 8.6 on IMDb, an 8.4 on tv.com, and 79% on Metacritic.
A second season, set three years later and called Deutschland 86, was broadcast in 2018 in Germany and 2019 in Britain. A final installment in the trilogy, Deutschland 89, is planned.
---
Deutschland 83 provides examples of these tropes:
Deutschland 83
Deutschland 86
---