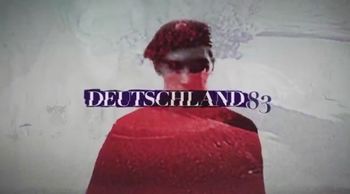 Deutschland 83 is a German eight-episode Spy Fiction Thriller that revolves around an East German spy named Martin Rauch who is sent to work in West Germany undercover as a military aide-de-camp named Moritz Stamm. It premiered on June 17, 2015, on Sundance TV, making it the first German-language series to air on a U.S. network.
The show has received very positive reviews, with a 100% rating on Rotten Tomatoes, an 8.6 on IMDb, an 8.4 on tv.com, and 79% on Metacritic.
A second season, set three years later and called Deutschland 86, was broadcast in 2018 in Germany and 2019 in Britain. A final installment in the trilogy, Deutschland 89, began airing in 2020 (Germany, Austria and the US). It aired in the UK during March 2021.
---
Deutschland 83 provides examples of these tropes:
open/close all folders
Deutschland 83
Deutschland 86
Deutschland 89
It Will Never Catch On:

Fritz invents a computer with a camera on top, similar to a webcam. A West German businessman refuses to invest in it, asking "Who wants to be watched while they are on the computer?!?".
Averted later in the series, where Fritz invents a system which can turn on house appliances via voice activation, a bit like Alexa. Dietrich and Fuchs think Fritz's inventions will catch on, to the point where they try to rip Fritz off by attempting to trick him into signing the rights to the inventions and his whole company over to them.

Properly Paranoid:

Tina, again. She's convinced a man she sees at a nearby table and who later comes to see her for medical advice is the same man who interrogated her in the Stasi. People tell her she is being paranoid, and she even begins to think she is herself. But it turns out she was right the first time.

Undercover as Lovers:

Walter has to go undercover in West Germany in order to infiltrate the banking system there. He is given a brand new identity, along with a fake wife, Beate, who is another HVA agent. They meet for the first time at "their" house and have to act like they are a couple who have been married for years.
---