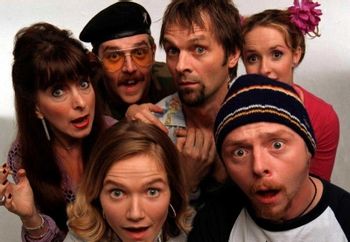 "The one, the only... Spaced. Accept no substitute."
A Brit Com which ran for 2 seasons on Channel 4 between 1999 and 2001.
It focused on two twenty-something friends at crossroads in their lives. Tim is a cynical aspiring comic book artist and geek who is dumped by his girlfriend in the first episode. Daisy is a bubbly aspiring journalist who doesn't have anything to say or the work ethic to say it. They pretend to be a couple in order to rent an inexpensive flat. The show focuses on their zany adventures as they struggle to get their lives on track. Tim's military-obsessed friend Mike, Daisy's ditzy glamour friend Twist, Mad Artist Brian in the flat below and dipsomaniac landlady Marsha complete the main cast.
The show was written by its stars, Simon Pegg and Jessica Stevenson, and directed by Edgar Wright. Because Pegg and Wright went on to collaborate on a string of successful films, Stevenson's contributions are often ignored by overeager marketing executives who label the show as "From the creators of Shaun of the Dead and Hot Fuzz." Still, the show's manic camera work and frequent references to popular genre films and TV shows can ring very familiar.
Came sixty-sixth in Britain's Best Sitcom. Now comes with its own Best Episode Crowner
!
In 2018, Pegg definitively ruled out any possibility of continuing the series saying "it couldn't possibly ever exist again" because it was about "a group of twenty-somethings at the turn of the century" and "I dunno what I have to say that's relatable about life now. It's not gonna happen, kids – unless you want a sitcom about some clueless actor who can't tie his own shoelaces."
---
---
Contains examples of:
Themes
Characters
Tropes
---