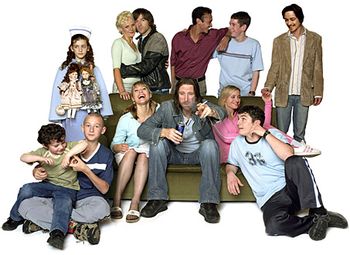 "Now nobody's saying the Chatsworth estate is the garden of Eden... at least I don't think they are, but it's been a good home to us, to me - Frank Gallagher, and me' kids, who I'm proud of, cos every single one of them reminds me a little of me. They can all think for themselves, which they've me to thank for. Fiona, whose a big help, massive help. Lip, whose a bit of a gobshite which is why nobody calls him Philip anymore. Ian, lot like his 'mam which is handy for the others cos she's disappeared into thin air, and good luck to her! Carl, we daren't let him grow his hair for two reasons 1) it stands on end and makes him look like Toyah and 2) nits love it. Debbie! Sent by God, total angel - you've to check your change but she'll go miles out of her way to do you a favour. Plus Liam - little rock n roller, gonna be a star - once we've got the fits under control... A few things, see, are vital to a half-decent community. Space! You need wide open spaces where everyone goes mental! And neighbourliness! Fantastic neighbours Kev and Veronica, lend you anything, well, not anything. But, all of em, to a man, know first and foremost, one of the vital necessities in life is, they know how to throw a PARTEH!"
—
Frank Gallagher
,
Original opening monologue, Series 1, Episode 1. Variations of this speech are used up until the finale of series 4.
"Tickets this way to the Chatsworth Express! Come and watch pikeys making a mess of the lives they were given by Him upstairs! And kids, they're convinced aren't actually theirs... What sounds on earth could EVER replace...kids needing money? Or wives in yer face? 'Cause this, people reckon - and me included - is why pubs and drugs were kindly invented! To calm us all down and stop us going mental! These are Chatsworth estate's BASIC essentials! We are worth EVERY penny, for grinding your axes! You shit on our heads, but, you pay the taxes... Imagine Britain without Chatsworth buccaneers, who'd cum on your face for the price of a beer... Make poverty history! Cheaper drugs now! Make poverty history! Cheaper drugs now! Heh heh heh heh... scatter! Partaaay!!"
—
Frank Gallagher
,
Shameless opening monologue, Series 4 (Finale) - 7
Shameless was a British TV series produced for Channel 4 which ran for eleven seasons between 2004 and 2013.
Imagine the ultimate Crapsack World. Nobody has a job or career. Kids have lost their parents, or the parents simply just don't care. The Police are corrupt and incompetent. The houses and streets are shoddy and derelict. Assaults and burglaries are endemic, drugs and alcoholism are rife, people barely have enough money for food, and each day is a struggle. Sounds grim? Well, in 2004, writer Paul Abbott and others at Channel 4 planned to create a very dark drama about life in a 'sink estate' in Manchester.
However... at some point in the gestation process, the team realised that what they had been planning could ALSO work as a comedy. And the rest is history.
Shameless tells the story of the Gallaghers - a family of brothers and sisters, abandoned by their mother, having not only to bring themselves up, but also effectively keep tabs on their alcoholic, drug-addled father Frank. It introduces the viewer to a whole world of people living in a place many people would think was incompatible with any type of humour other than Gallows Humour. And yet, it remains one of the funniest things on British television in the last thirty years. This is due to a combination of scripts, acting and direction that has you laughing with these people, rather than laughing at them or pitying them.
Early seasons focus more closely on the Gallagher clan; later on, existing character roles have expanded, such as the notorious Maguire family, the local shop-owning Karib family, and seamstress turned pimp Lillian Tyler, and new ones added. Over time, many characters have come and gone, with oldest child Fiona leaving to be with boyfriend Steve, Frank's second wife Sheila going off to work on a cruise liner and the kids' mother Monica returning for two years before leaving again. And then coming back. And then leaving again. And then coming back again.
A US adaptation of this series has been airing on the American cable network Showtime since January 2011, which is also shown in Britain under the auspices of Channel 4. Tropes and pages pertaining to that version of the show have been moved accordingly.
Now with a character page, which needs YOU.
---
Shameless provides examples of:
---