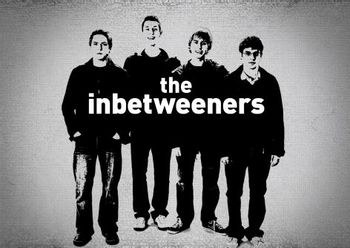 "Bus wankers!"
Forget Skins. This is what being 16/17 in noughties Britain is actually like.
The Inbetweeners (2008-2010) is a sitcom for E4 that focuses around the lives of four sixth form students in some nowhere suburb in southern England. Will Mckenzie, a briefcase-carrying nerd with a temper problem; Simon Cooper, a Dogged Nice Guy with perpetual lust for his next-door neighbour; Neil Sutherland, a total moron with a (probably) gay dad; and Jay Cartwright, a brash Casanova Wannabe. Together these four mismatched teens get into the everyday problems accompanying all sixth form students, as they try to sway girls into their beds and be recognised as some of the cool kids. Along with a lot more problems not usually encountered by sixth form students. Lots more problems.
The show airs on BBC America in the United States, even though it's not a BBC production. MTV aired (and cancelled) a Transatlantic Equivalent in 2012.
The Inbetweeners Movie was released in August 2011, followed by a second film in August 2014. A reboot is currently being considered.
Not to be confused with the people who do the in-between drawings for hand-drawn animation.
---
This show provides examples of:
---