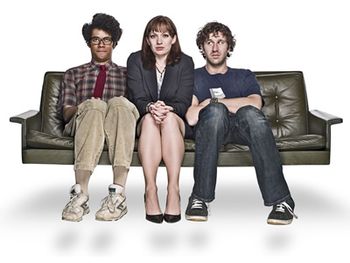 "I'm told my father was particularly proud of the IT department, run by a dynamic go-getter, a genius, and a man from Ireland."
— Douglas Reynholm
A British Sitcom written by Graham Linehan (of Father Ted and Black Books fame), set in the fictitious Reynholm Industries: a prominent London-based corporation filled with "a lot of sexy people not doing much work and having affairs". Unfortunately for them, the "standard nerds" who make up the IT Department are not part of this glamorous world. Consigned to the squalid basement, they're looked down upon and disregarded by everyone else despite keeping the entire place running smoothly.
The main characters are Roy (Chris O'Dowd), a surly and slovenly comic-book fan who despises his own job and the stupidity of those around him; Moss (Richard Ayoade), a naive and innocently-tactless savant with No Social Skills; and Jen (Katherine Parkinson), a twitchy career-woman with absolutely no grasp of technology but a smidge more social proficiency than the two geeks.
Frequent guests included Chris Morris as the aggressively eccentric (to the point of complete madness) company chairman Denholm Reynholm, Noel Fielding as reclusive goth sys-admin Richmond Avenal, and Matt Berry as Douglas Reynholm, Denholm's extremely promiscuous son who appears in the second series to take over the business.
The series is produced in the classic Britcom mode (as opposed to the more naturalistic style popularised by The Office (UK) and Extras), despite it going out of style in UK television. It has a loyal following and often did pretty well in the audience ratings, running for four seasons. Because the fifth season frequently hit obstacles, a final episode was made instead, airing in 2013.
An American remake was commissioned with Joel McHale as Roy and Richard Ayoade playing Moss again. It was leaked and can be found online. The German remake ran for exactly two episodes due to bad actors, badly translated puns and therefore bad viewer numbers.
---
Hello, TV Tropes, have you tried turning it on and off again?:
open/close all folders
A-E
F-J
K-O
P-T
U-Z
---
"I'm sorry, are you from the past?"
---