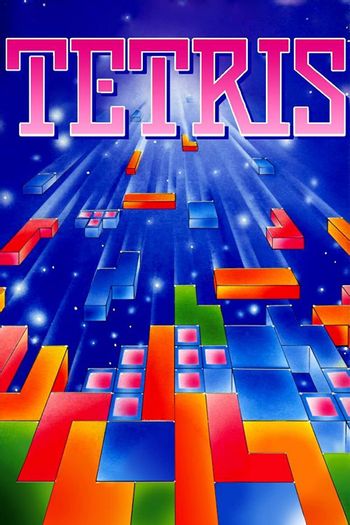 I am the man who arranges the blocks that descend upon me from up above.
They come down and I spin them around, till they fit in the ground like hand in glove.
Sometimes it seems that to move blocks is fine, and the lines will be formed as they fall.
Then I see that I have misjudged it! I should not have nudged it after all.
Can I have a long one, please?
Why must these infernal blocks tease?
Contrary to popular belief, the Russians did invade during the Cold War and even won — it just went unnoticed, because they were crafty about it. Their invasion was called Tetris
(Russian: "Тетрис").
The concept is exceedingly simple. Tetriminoesnote not a typo; The Tetris Company prefers this spelling over the standard "tetromino" (puzzle pieces made from four square blocks) are falling down the screen, and you must arrange them into lines by moving them around your workspace and rotating them. Once you form a line, all blocks in that line vanish, and everything above them falls down one level. You gain more points for making multiple lines at once — in the standard rules, the maximum number of lines that you can make at once is four, a "Tetris".
As you continue to play, the blocks fall faster and faster. If they reach the top of the play area, the game is over.
According to legend, the game's creator, Alexey Pajitnov, nearly didn't complete the game; he was too addicted to playing the prototype. More on the game's long, weird, complicated history can be found on the Analysis page.
First released in 1985, Tetris products or other programs implementing the same game rules have appeared on nearly every video game console, computer operating system, graphing calculator, mobile phone, and PDA ever released, as well as the lighting systems for a couple of buildings (its simplicity makes porting it very easy). By far, however, the most famous and popular version was released on the Nintendo Game Boy in 1989, bundled with the system upon its release (and becoming its Killer App at the same time, long before Pokémon was created). The first of that version's three musical options, a Russian folk song called "Korobeiniki"
(although the game just referred to it as "Music A"), has become one of the most iconic pieces of video game music of all time.
Tetris may well be one of the most beloved video games in the history of the craft, enjoyed by everyone alike. There are few gamers who haven't stared at a screen and muttered, "All I need is one straight line... just one..."
Arika's arcade version of Tetris, called Tetris: The Grand Master, features a few deceptively simple changes that transform Tetris from a classic action puzzle game into nothing less than the most cognitively strenuous high-speed twitch game ever devisednote Whisper these words to the Google search box: "TGM Shirase". But, due to the creator's frustration with clones of that game, its future is bleak. Arika did, however, re-surface in 2019 with its Nintendo Switch title Tetris 99, an online multiplayer title which combines the game with elements of the battle royale genre.
In 2014, Sega combined Tetris with their Puyo Puyo franchise for Puyo Puyo Tetris, bringing colorful anime art style and unique characters, eight of which are brand new representing Tetris and the rest from previous Puyo Puyo games. It would later receive a sequel, Puyo Puyo Tetris 2, in late 2020.
In late 2018, Tetsuya Mizuguchi, under the Resonair label of developer, released a new Tetris game called Tetris Effect for Playstation 4, with the unique gimmick of blending in traditional Tetris gameplay with the visual and musical styles seen in Mizuguchi's other games. It was ported to PC and then released to Epic Games Store in 2019, with an Oculus Quest version coming early the following year.
In February 2023, Nintendo would announce that the Game Boy version of Tetris would be releasing along with other Game Boy games as part of the Nintendo Switch Online program, after they had already gone through decades of legal issues with the Tetris Company surrounding rereleases of the game. The same year, a feature film regarding the game's origins was announced for release on Apple TV+ in March.
Notable games in the series include:
See also: Tetrisphere, Wesleyan Tetris, Not Tetris, NullpoMino, The Tetris Effect Tetris Wiki.
---
Tetris and its derivatives can contain examples of:
---