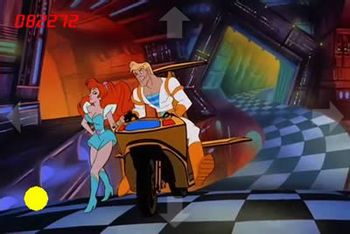 "Space Ace! Defender of justice, truth and the planet Earth! Ace is being attacked by the evil Commander Borf! Struggle with Dexter to regain his manhood! Destroy the Infanto-Ray! Defeat the evil Borf! Be valiant space warrior, the fate of Earth is in your hands!"
Intro narrationnote
The Creator-Driven Successor to Don Bluth's popular Dragon's Lair laserdisc arcade game, Space Ace was similar, but with a totally different genre.
Instead of a knight and a princess, the characters were Dexter, a pulp space hero, and Kimberly, his buxom, short-skirted, sarcastic girlfriend. Their mission was to locate the evil Commander Borf, a blue behemoth of an alien who had taken it upon himself to create something called the Infanto Ray, that he would use to transform the inhabitants of Earth and any other planet he wished into babies or children.
Before the game itself, Ace is zapped with said ray, which transforms him into his previous geeky teenage self. The rub is that, due to some apparent malfunction or his own body chemistry, the effects turned out somewhat wonky, and he switches between his adult, musclebound self and his younger self at the least opportune times. The game itself took care of this by utilizing one button that served as both the weapons button and the "energize button", and when Ace's wrist weapon flashed you had the option of transforming into Ace or simply remaining as Dexter to carry out the mission... and thankfully, Bluth animated two separate scenes for each of these instances seeing as how Ace could dispatch enemies quickly and Dexter had to use his smarts to get past them. Note that turning into Ace was selecting to play the hard version of the level, which would be longer and more action-packed to challenge the seasoned hero version of the character, but which had the reward of receiving more points.
Unlike Dragon's Lair, where Dirk was semi-mute, both Ace and Kimmy spoke throughout the adventure, commenting on the weirdness around them as well as going over the game plan to reach Borf and stop him, which added a little more humor to this game than Dragon's Lair. Though it came second, it carved out its own nice little niche in gaming history.
It was originally released on laserdisc on April 15, 1984, and has since been ported to the iPhone,
the PSN, and Android.
A Saturday morning cartoon based on the game was added to the second season of Saturday Supercade, which was rerun as an insert in the early days of Cartoon Network and their spinoff Boomerang. A comic mini-series based on the game incorporated elements from the original game and its Supercade version (mainly Ace's changes to Dexter and back happening at random as opposed to the use of his wrist device). It was also released on Steam on August 27, 2013. There was even a version released in a trilogy pack along with the two Dragon's Lair games that could be functionally played on a DVD player, with the remote as a controller!
---
Space Ace contains examples of the following:
---