All spoilers for both Xenoblade Chronicles and Future Connected will be left unmarked. You Have Been Warned.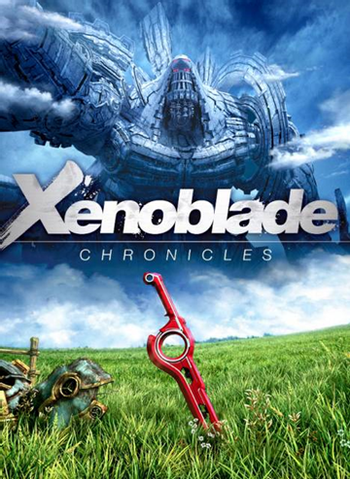 "Long ago, the world was nothing more than an endless sea cloaked in a boundless sky, reaching as far as could possibly be imagined. Then two great titans came into existence: the Bionis and the Mechonis. The titans were locked in a timeless battle, until at last... only their lifeless corpses remained. Eons have passed. Now, our world, this vast land stretching across the remains of the Bionis, is under attack from a relentless force known as the Mechon."
— Shulk in the opening narration
Xenoblade Chroniclesnote simply Xenoblade in Japan is an action Japanese role playing game for the Wii console, developed by Monolith Soft and published and produced by Nintendo. While Tetsuya Takahashi originally did not intend the game to be related to his previous creations, beginning its life as a totally unrelated story called Monado: Beginning of the World, it became the Spiritual Successor to the Xenosaga series of Eastern RPGs for the PlayStation 2, which itself was a spiritual successor to SquareSoft's Xenogears, after Satoru Iwata suggested the Xeno title be added late into production to honor Takahashi's history and struggles in the industry. After the game's success, more traditional Xeno elements would be retroactively added into the sequels, seemingly resurrecting the Perfect Works storyline from Xenogears and Xenosaga in a form even its creator couldn't have predicted.
In the past, two continent-sized gods called the Bionis and the Mechonis fought until only their lifeless corpses remained. Life arose on the surface of these titans, organic life on the Bionis and the Mechon on Mechonis. For as long as the human-like Homs can remember, the Mechon, led by Master Egil, have been intent on wiping out all life upon Bionis. With the power of the legendary Monado, sword of the Bionis itself and the only thing that can piece through Mechon armor, the invaders are decisively defeated in the battle of Sword Valley... until one year later when they return with new, stronger forms.
One of the Homs researchers, Shulk, discovers he is the Monado's destined wielder when he takes up the sword and starts to see visions of the future. He is initially content to live a happy life with his best childhood friends, Reyn and Fiora, on the peaceful Colony 9. That is, until it gets ravaged by the Mechon, led by the mysterious Metal Face, who proceeds to kill Fiora in front of Shulk. When the Mechon retreat, Shulk swears to get revenge for what they've done and leaves to pursue them. Along the way, he gains many more allies, explores the massive bodies of the fallen titans, and must fight against Metal Face and his fellow Face Mechon, a strange group of new Mechon who are immune to the Monado, and eventually Egil himself.
Needless to say, things get much more complicated than that.
It was released in Japan on June 10th, 2010, after Nintendo had delayed the game to allow Monolith to finally deliver a game close to their original vision after their long history of problems. This game saw Takahashi adopt a style of directing and writing that matched what most modern game developers view as the optimal strategy when in a game is in preproduction of creating mechanics then writing a story around them instead of the other way around as had been the case in Xenogears and Xenosaga, aka visions in this case, that is seen in his future projects resulting in vastly different narrative experiences from his older works. After much fighting from the fans, it was released in Europe on August 19th, 2011, and translated to English, French, German, Spanish and Italian. After much fan demand, the game reached American grounds in April of 2012. Unfortunately, due to the game's highly limited run, the original release became incredibly hard to find, making it hard for fans late to the game to own the whole "set" of Wii Role Playing Games, made up of this, The Last Story, and Pandora's Tower.
On August 29th, 2014, a port for the New Nintendo 3DS system was announced, after Shulk's reveal trailer
for the fourth Super Smash Bros. game. It was released April 10th, 2015. A Shulk amiibo was released in the Wave 3 of Super Smash Bros. amiibo and unlocks bonus costumes in specific gamesnote more specifically Super Mario Maker, Yoshi's Woolly World, and Chibi-Robo!! Zip Lash. Using it in Kirby: Planet Robobot gives the ESP ability to Kirby. It can also be used to train a "Figure Player" in Super Smash Bros. for Nintendo 3DS and Wii U and gives coins for the collectibles shop in Xenoblade Chronicles 3DS. Additionally, scanning Shulk's amiibo into Xenoblade Chronicles 3 unlocks a Monado cosmetic for the Swordfighter class.. The original Wii version also came out on the Wii U Virtual Console in Europe on August 5, 2015, and later in North America on April 28, 2016. Also, Fiora appeared as a Nintendo Guest Fighter in the crossover video game Project × Zone 2 alongside her Spiritual Predecessor KOS-MOS from Xenosaga; several Mechon, including the dreaded Metal Face, also appear as enemy units.
The success of this game gave rise to an entire Xenoblade Chronicles series: A thematic Spin-Off, Xenoblade Chronicles X, was released for the Wii U in 2015, and in 2017 a more direct sequel, Xenoblade Chronicles 2, released for the Nintendo Switch. A remake using the sequel's graphics engine called Xenoblade Chronicles: Definitive Edition was released for the Switch on May 29, 2020. Definitive Edition features a brand new epilogue story called Future Connected, set one year after the main game and starring Shulk and Melia. Another sequel, Xenoblade Chronicles 3, was released on (again on the Nintendo Switch) July 29th, 2022, which would also receive an expansion that follows up directly on both the main game and Future Connected, titled Xenoblade Chronicles 3: Future Redeemed.
---
I'm really feelin' these tropes!
open/close all folders
Tropes # to C
Tropes D to F
Tropes G to I
Tropes J to L
Tropes M to O
Tropes P to R
Tropes S to U
Tropes V to Z
Future Connected
---
Shulk: Cool! Let's keep this up!
Reyn: Man, what a buncha' jokers!
Fiora: Let's press on, and on, and ON!
---