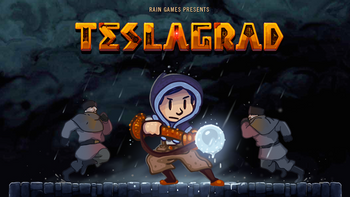 Teslagrad is a 2D, hand-drawn, side scrolling, metroidvania, puzzle platformer developed by Rain Games. It was released on Steam, GOG, Humble Bundle, Wii U, PS Vita, PS4, PS3, Xbox One, and the Nintendo Switch.
It's set in an alternate universe steampunk European country ruled over by a tyrannical king; the player character is a young adopted child who is forced to run away from home in order to avoid government troops who want to capture him for an unknown reason. His flight leads him to a mysterious tower, the secrets of which he must discover if he wishes to evade capture.
The major mechanic of the game is magnetism: The player gains the ability to magnetize certain objects early on, and must use this ability to solve puzzles, move around the levels, and activate contraptions. The more he explores the tower the more abilities he gains, leading to a large variety of puzzles. The game is done entirely with hand-drawn sprites, and looks absolutely gorgeous, with an excellent sense of atmosphere.
A sequel named World to the West was released in 2017.
---
This video game provides examples of: