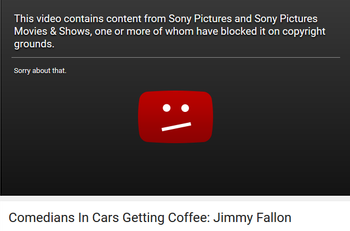 "
Hey, hey, kids! Your old pal Krusty is going to teach you five new words: unlicensed use of my image!
"
Copyright and Trademark law have gotten in the way of or forced cancellation for many works. No matter how promising, popular or profitable a show is, it's still apt to get canceled if it would be illegal to keep broadcasting. This can be prone to What an Idiot! moments on the part of the owner of the intellectual property in question, since if it's that profitable, it makes sense to license the work rather than shut it down, unless of course the artist is Doing It for the Art.
Fans may have to Keep Circulating the Tapes if legal troubles also forbid a home release, or force the official release of an altered version. A Real Song Theme Tune might be replaced with a generic theme due to the need for both the rights to the actual song and the rights for the recording itself. TV stations have blanket licenses, but these rights have to be cleared for release on home media. Songwriters and performers might want more money, and the studio might not be willing to pay for it. Scenes might be edited out after legal objections for various reasons.
Sometimes, the reason why a trademark is so zealously protected is because the holder wants to prevent it from entering common use as a generic term, which would cause them to lose it. This has happened with Aspirin (once a Bayer trademark, they lost it in many countries after World War I), Cellophane, and other "genericized" trademarks. It's also why most productions bend over backwards to make sure that Real Life product names are not mentioned at all (unless as Product Placement), and certainly never as generics. But note that this only applies to trademarks, not to copyrights. Additionally, note that (contrary to the common misunderstanding of this law) a company is never legally required to protect a trademark in order to keep it—they don't lose it simply for failing to protect it; they only lose it if it enters common use as a generic term to the point where it is no longer trademarkable. It can, however, weaken future court arguments if the defendant is able to say "Well they didn't intervene with Case X, so why are they suing me?"
The Other Wiki refers to this as the tragedy of the anticommons
, where the existence of competing rights holders—not just in copyright, but also in patent law,note Where it's a very serious problem, since technology is iterative; many companies are highly annoyed by the "patent thicket" keeping them from developing new software and (especially) new smartphones, since so much is patented and they can't build on current without stepping on a patent or two or two hundred. However, no company has an incentive to end the thicket, since they regard their patents as leverage against others. Then there are the patent trolls who buy up patents solely to start lawsuits. land ownership,note Most often when someone has a big project and needs to buy up a bunch of lots, giving landowners an incentive to hold out for a higher payday leasing rights and other areas—frustrates achieving a socially desirable outcome. To further complicate matters, organizations of all kinds try as hard as possible to blur the lines between copyrights, patents, and trademarks in their favour.
Related to Screwed by the Network. May be why No Origin Stories Allowed happens.
---
Examples:
open/close all folders
Networks
The phrase "Customer Notice: *Insert name of company*, the owner of this channel has forced *insert name of cable or satellite provider* to suspend it despite our repeated requests to keep it available to you" often pops up on certain television systems in the event of a contractual negotiation dispute between the channel owners and television providers providing the systems in question. Notable disputes that led to these kinds of messages include the December 2009 blackout of Fox-owned channels from Time Warner Cable (now Spectrum)note and the July 2012 blackout of Viacom-owned networks from DirecTV.
Local station owner Sinclair Broadcast Group managed to do this to themselves when attempting to acquire rival Tribune Media. When the deal was first announced, many expected the merger to sail through easily if Sinclair complied with all the necessary divestments they had to make to get FCC and DOJ approval. But Sinclair's ego got the better of them and attempted to divest most of the stations to people who had significant ties to Sinclair so that the broadcaster could still operate the stations without actually violating the laws on paper. The FCC, who under a business-friendly administration was relaxing media ownership rules to benefit companies like Sinclair, wasn't pleased with Sinclair's proposal and refused to sign off on it, and Tribune, who was getting fed up with Sinclair's aggressive tactics, as well as the prolonged regulatory review, decided to break up the deal and sue Sinclair for breach of contract.
Newspaper Comics
Garfield had a short run of Believe it, or don't gags until PAWS Inc. got a cease-and-desist letter from the Robert Ripley estate.
Pinball
Unlike other games in the series, Zen Studios' Spider-Man pinball is not available as downloadable content on some platforms' versions of Pinball FX or Zen Pinball. Instead, licensing disputes between Marvel Comics and Sony require the player to purchase a separate game, "Marvel Pinball", and get it there instead.
Professional Wrestling
Rides
Theatre
Toys
Web Animation
Homestar Runner:

The site had a game based on the See 'n Say toy where a main character would speak if the pointer landed on the corresponding picture. The game was revamped in 2007 to a generic toy with buttons making the characters say the same lines. According to some sources, Mattel sent the Brothers Chaps a cease-and-desist order over the game, resulting in the change. Even the Homestar Runner Wiki was requested to scrub all references to the original version. Despite this, the original See 'n Say game still can be accessed as a secret page.
When "Strong Bad Sings" was released to DVD, the song The Cheat played for Strong Mad had to be changed to "Hot Cross Buns". At the time of its release, the lyrics to the original song, "Happy Birthday to You!", were considered copyrighted. The cartoon was also re-edited in 2004 to change the phone number at the end after a limousine company in New York complained to the Brothers Chaps that they were receiving calls from people wanting to order the album.

The Trainsformers shorts, which were a blend of Thomas the Tank Engine and The Transformers, gleefully poked fun at being unauthorized use of copyrighted material and a violation of it. It shouldn't be a surprise that a copyright protest brought down the four videos made. However, the creator lampshaded this in two non-copyright-infringing follow-up videos, and other YouTube users re-posted the videos, anyway.
hololive: in September of 2020, Coco Kiryu and Haato Akai were placed on suspension as a result of mentioning Taiwan as an independent nation while discussing viewer metrics in a livestream — not in support of it, and not in any way that disparaged China, simply acknowledging its existence as a nation that is independent from the Republic of China, something that is a hot-button issue in the Chinese government. This caused relations to sour between China and hololive's parent company, Cover. The main purpose of the suspension was not necessarily as punishment, but to protect Coco and Haato from Chinese nationalists that would troll and harass them. After three weeks, their suspension ended, and they offered apologies in their following streams, but a sizeable contingent of Chinese trolls continued to call for Coco's termination, souring relations further. Unwilling to fire one of their biggest stars, and with the hololive name becoming anathema in China, Cover ultimately decided to cease all business in China, which had the unfortunate effect of resulting in the closure of their fledgling Chinese branch. For a mercy, the streamers from hololive CN were allowed by Cover to keep their characters after closing procedures concluded, and were allowed to keep the near entirety of their stream donations until their departure.
Web Comics
---