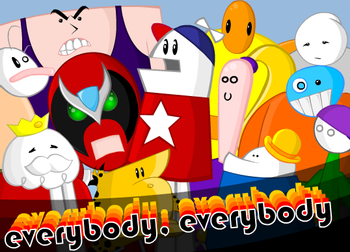 Homestar Runner:
If I had to pick one word to describe myself, it would probably be... Fluffy Puff Marshmallows. Or Homestar. Either one, really. They both fit!
Strong Bad:
Don't forget [one of the following]
note
doofus/moron/...er...
Lionel Richie
!
— Homestar Runner's character video
Homestar Runner
, the namesake series of the Homestar Runner family, is a comedic and surreal web-based Adobe Flash cartoon by two guys from the state of Georgia, Mike and Matt Chapman ("The Brothers Chaps"). Starting as a dead-tree children's picture book, The Homestar Runner Enters the Strongest Man in the World Contest, it eventually found its way to the internet and spread through word of mouth.
The main character is the eponymous Homestar Runner, a goodhearted athlete with no arms and no clue. However, Strong Bad, a narcissistic, loudmouthed "wrestleman" with a Luchador mask for a face and boxing gloves for hands, seems to have exceeded the title character in popularity. Along with his pint-sized lackey The Cheat and hulking brute older brother Strong Mad, Strong Bad constantly pushes everybody around, especially his gray, depressed younger brother Strong Sad. Other characters include Homestar's on-and-off hippie girlfriend Marzipan, Homestar's best friend and Only Sane Man Pom Pom, the verbally challenged and slightly creepy Coach Z, greedy concession stand owner Bubs, the ever-hungry King of Town, and the Poopsmith, whose occupation is self-explanatory. And to round out this wacky cast, we also have Homsar, an Oddball Doppelgänger of Homestar who speaks in non-sequiturs and seems to be able to openly defy physics. Over the years, the series has come to include many recurring and minor characters, many of which simply debuted as one-off jokes.
What made the website truly standout was how the site handled content. While a good chunk of flash content at the time was incredibly vulgar and offensive, Homestar Runner deliberately wasn't (according to The Brothers Chaps, this was done as a personal challenge); the worst language you'd hear on the site would be something like "Crap" or "sucks" and the worst thing you'd see them do was drink beer and even then, they would rarely get drunk; Most of the humor came from the surreal nature of the world around the characters (and sometimes, from the characters), and from the clever wordplay that would come up on the site. While most flash content was hosted on websites like Newgrounds and maybe mirrored to the creators own website, everything on Homestar Runner was hosted on its own website and would include easter eggs that would range from the simple "click here on this spot at the right time" to "typing the URL of a seemingly made up page a character mentioned" and even "decompiling the flash cartoon itself."
The most popular part of the site is the Strong Bad Email (aka "sbemails"), where Strong Bad responds to viewers' questions and suggestions, such as "Why don't you creat a montage?
", "What would you do different, if you could do it all over again?
", and the ever-popular "How do you type with boxing gloves on?
" This usually involves mocking the sender's spelling and grammar mistakes (in fact, the character of Homsar was actually created this way
), and quite often not actually answering the question.
Other features on the site include Teen Girl Squad, a comic about shallow teenage girls dying in improbable and hilarious ways, which is written, drawn, and narrated by Strong Bad; Old-Timey Homestar, what Homestar Runner would be like if it was made in the 1930s; and the Cheat Commandos, a parody of Merchandise-Driven shows in general and G.I. Joe in specific. The Brothers Chaps have also collaborated with They Might Be Giants a few times. A series of episodic point-and-click adventure games by Telltale Games, Strong Bad's Cool Game for Attractive People (or SBCG4AP), was released for PC and WiiWare between August and December of 2008, and later ported to PlayStation Network in 2010.
Most episodes include Easter Eggs, accessible by clicking on the right part of the screen at the right time.
Thanks to The Wiki Rule and to its Internet longevity, a disturbingly comprehensive wiki has been built up by fans over the years, seen here
.
Since the birth of Matt Chapman's second child in November 2009, the site's flow of new content trickled to a halt. However, in late 2011, Matt confirmed via his Twitter page that the series has not been cancelled and that future updates were coming "sporadically and without warning" (and went so far to say that nobody in their right mind would voluntarily quit making Homestar Runner altogether). The Brothers Chaps have worked on other projects during the hiatus, including the game
Poker Night at the Inventory, in which Strong Bad meets up with Tycho (Penny Arcade), Max (Sam & Max: Freelance Police), and the Heavy (Team Fortress 2), as well as a special guest appearance by Strong Bad and Homestar at W00tstock 2013. More recently, Matt has become a writer and director for Nick Jr.'s Yo Gabba Gabba!, The Hub's The Aquabats! Super Show!, and Disney's Gravity Falls. Matt and Mike would also go on to create Two More Eggs for Disney XD which would air in between breaks on that channel. As of 2014, new episodes have finally begun to trickle back in, beginning with a new April Fool's Day intro
and the music video "Fish Eye Lens"
. See also Peasant's Quest.
In addition to new content, they've been uploading more and more older content such as the first SBEmails along with older toons and shorts to their official YouTube channel
.
If you find the speech hard to understand, or want to experience H*R in another language, the wiki has subtitled versions of most toons
; however, since the retirement of Flash, they have not been supported.
Vote for the best 'toon (including sbemails) here
!
There is currently a page recapping the series.
Also, for Strong Bad Email-only tropes, see Strong Bad Email.
---
open/close all folders
General Universe Tropes
Individual Cartoon Tropes
He had another one when when one of his computers got 423,827 viruses. (A new record!)
Heroic Sacrifice: In The Jibblies 2, Homestar commits to a Fate Worse than Death to cure everyone else's jibblies. He gets better.
Hostile Show Takeover: Strong Sad in this episode of Marzipan's Answering Machine; he apparently considers recording over people's outgoing voicemail messages as one of the best perks of house-sitting.
I Ate WHAT?!: The SBEmail secret recipes has such culinary gems as Great Uncle Pawdabber's Pre-tend Ice Cream Showdown (which amounts to a bowl of sour cream mixed with The Cheat fur) and Stupid Uncle Egg's Goodtime Diaper Pie (which is just a pinecone).
Imaginary Friend: One Strong Bad Email is dedicated to Strong Sad's childhood imaginary friend, Scotty Titi, and how much he annoyed Strong Bad.
In-Character Let's Play: The Halloween Waggle has two Videletrix employees play the Atari game, Haunted House.
Flash Game Tropes
---
"What is that big play button" you ask? Well, Flash is all kinds of dead! But the amazing Ruffle project helps our cartoons live on! Not every cartoon and game works perfectly just yet so be patient and expect some jankiness here and there while we keep a-workin!
---