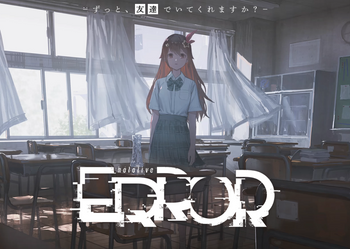 "We'll be friends forever, won't we?"
hololive ERROR is an horror-based multimedia projectnote Six 3D VR Episodes, a game demo and an animated manga video series as of March 2022 by hololive, a group of Virtual YouTuber idols by COVER Corporation. Announced on August 1st, 2021, the 3D VR series began on August 14th, with a game demo released on January 7, 2022, and the manga starting on February 19, 2022. The full version of the game was released on July 18, 2022, while the 2.0 update and Steam version were released September 16, 2022.
The series starts with a New Transfer Student finding their way in a new school. The student meets several girls in Aogami High, all of whom are friendly and eager to get along with their new classmate, with some appearing to be attracted to her. However, there is also some slight apprehension around treatment of her, and students from another class are noted to have gone missing recently. On top of this, there may be something far darker going on just out of sight...
The characters are portrayed by a number of hololive idols in either slightly similar or drastically different roles to the talent's characters established in hololive proper which varies from character to characternote For example, Fubuki is very cheery and upbeat, but Inari is meek and hesitant, whereas Polka and Honoka are both very energetic. The playlist for the 3D VR series is here
, while the official site, which also hosts the game demo hololive ERROR: Escape from Aogami High, is found here
; the playlist for the animated manga is here
. In April 2022, a website dedicated to the Train Arc
was launched. In June 2022, a website dedicated to the Revelations Arc
was launched.
Note: Where Episodes are remarked upon, it refers to events in the 3D VR, whereas Chapters refer to the Animated Manga Series. While events are detailed respective to where they happen, it is important to make the distinction what happens when and in which video as the two series offer very differing plot points and tropes.
---
The series provides the examples of:
---