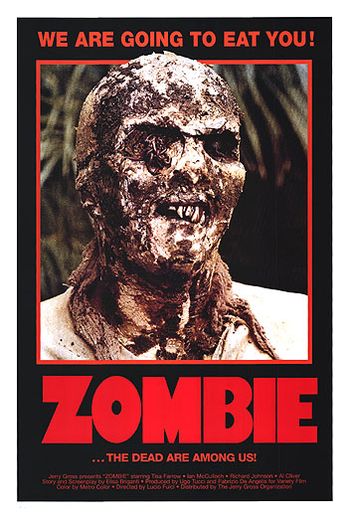 Zombi 2 (1979) is a zombie horror film directed by Lucio Fulci, which made Fulci a horror icon. Despite the fact that it purports to be a sequel to George Romero's Dawn of the Dead (the Italian title of which is Zombi), the two films are unrelated. It's called Zombie Flesh Eaters in the UK.
Patrolmen investigating a derelict yacht drifting into New York Harbor are attacked by a rotting man, who kills one of them by biting out his throat. The owner of the yacht is nowhere to be found, so police question the man's daughter, Anne (Tisa Farrow), who knows only that he'd gone to the Caribbean island of Matool to conduct research. She meets Peter West (Ian McCulloch), a reporter who has been assigned the story, and together — with another seafaring couple, Brian (Al Cliver) and Susan (Auretta Gay) — they travel to Matool.
Problem: Matool is a cursed place, where the dead rise to attack the living. Dr. Menard (Richard Johnson) is on the island to investigate why. His high-strung wife Paola (Olga Karlatos) wants to leave for fear of being attacked. But hey, they're only dead dudes... what could they possibly do?
Then our intrepid investigators arrive...
This was followed in 1988 by Zombi 3D. A rip-off was made in 1980 by Marino Girolami, called Zombie Holocaust.
---
"Zombie Trope Eaters":
---