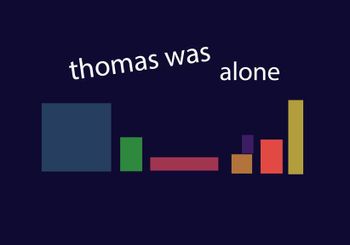 "It is fitting that the first act of sentient AI was an act of selflessness."

Thomas Was Alone
is a
Puzzle Platformer
game for the PC by Mike Bithell about getting coloured blocks to walk into doors. Also, heartwarming friendship, and the awakening of AI, narrated by Danny Wallace.
Thomas Was Alone is a story about a group of Artificial Intelligences who meet up in their respective test instances thanks to an error in the coding of how each chamber is generated. It starts with Thomas finding himself alone, but after traversing through the first couple test instances (see: Tutorial) he finds himself in an instance with Chris, who doesn't much care for Thomas, or his ability to jump much higher than he can. This goes on, showcasing each new character and their special ability in the world until we have our band of seven: Thomas the Friendly, John the Proud, Claire the Superhero, Laura the Helpful, James the Self Conscious, Sarah the Adventurer, and Chris the Insecure.
Additional content to the game, entitled Benjamin's Flight, tells a story that takes place prior to Thomas's adventure. Inspired by the picnics taken with his father, the young Benjamin steals his dad's new jet pack and sets off to reach the Fountain, joined by the moody Anna and familiar face... purple rectangle Sarah.
On the side, Thomas, Chris, and John also became costumes in LittleBigPlanet 3 for Sackboy, Little Toggle and Big Toggle respectively.
For existential games with the same flavor, compare KLAUS.
---
The main game provides examples of:
The DLC Benjamin's Flight provides examples of:
---