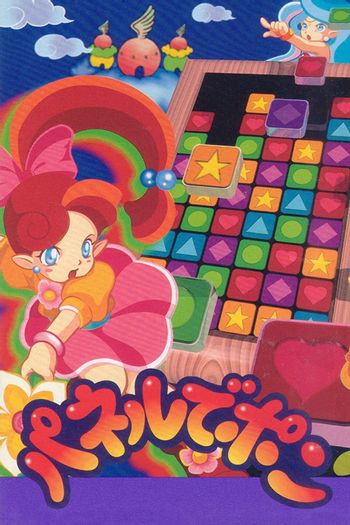 "When the flowers bloom, the power of fairies works..."
— Translated intro of Panel de Pon.
Panel de Pon note (or Tetris Attack, Puzzle League, Puzzle Challenge, or one of any innumerable names for the same series) is a Match-Three Game developed by Intelligent Systems and published by Nintendo. While not the Trope Maker for the Match-Three Game, it certainly helped popularize the genre.
You have a screen full of differently colored blocks and marked by different shapes. You can swap the blocks freely horizontally, but you cannot swap them vertically. Get three or more of the same block in a row, and they vanish. Get more than 3 in a row, clear multiple sets of 3 at once, or create a chain — the blocks that fall in to replace the ones that you just cleared form more sets of 3 or more — and you get more points. However, the stack of blocks is constantly growing, and if it reaches the top of the screen, you lose. While a simple formula, it lends itself well to many variants: Play until you lose, score as many points as possible in a limited time, clear all the blocks on screen with limited moves, and face off against a CPU to see who loses first (with unclearable "garbage" to speed up the process).
The original Panel de Pon came out for the Super Famicom in 1995. It stars a flower fairy named Lip trying to rescue her fellow fairy friends from monsters, who are using evil magic to possess them and flood their homeland with an endless rainstorm.
Since it was believed that no self-respecting Western gamer would buy a game featuring 'girly girls' in those days, instead of roughing the marketing up, Nintendo decided to do the infamous palette and name swap, the same way they did to Super Mario Bros. 2. The US version was dolled up as Tetris Attack in 1996 with identical gameplay but with a very superficial Yoshi's Island themenote much of the original game remains intact visually, with only character art, the title screen, and a few musical pieces being changed, a few extra options and character profiles, and nothing to do with Tetris at all.note but since Yoshi had starred in previous falling blocks games like Yoshi and Yoshi's Cookie, the idea of using Yoshi's Island characters is not too far-fetched This version was simultaneously released for the Super NES and Game Boy, and was also brought back to Japan as Yoshi no Panepon.
It later saw two Pokémon-themed reskinnings: Pokémon Puzzle Challenge for Game Boy Color, which was almost a proto-Puzzle Quest, and Pokémon Puzzle League for Nintendo 64, directly based on the anime, which introduced a "3D" mode with a cylinder of blocks instead of a stack. It had "battles" between Pokémon played out in puzzle matches, and some adventuring on the side. The name "Puzzle League" stuck in western releases: a Game Boy Advance compilation release (along with Dr. Mario) simply entitled it "Puzzle League," which had no theme whatsoever. The DS iteration, Planet Puzzle League, maintained the name while adopting a futuristic theme, though still with no characters.
An Animal Crossing-themed variant called Animal Crossing Puzzle League was released as a Game Within a Game for New Leaf after an update. This version of the game introduces a new game mechanic where if you fill up a gauge upon clearing panels, you will get the ability to use a special technique. By default, your ability is "Horizontal Wipeout", but if you use an Animal Crossing amiibo figurine, you get an alternate special technique depending on the figurine (for example, Isabelle's winter figurine gives you "Slow Panels", which decreases the speed of the gameplay).
Aside from Lip's Stick, a Mii Outfit, and her Spirit in Super Smash Bros., Lip has been nowhere to be seen in puzzle land for quite some time. She did, however, show up as a character in Captain Rainbow. You can also dress your Animal Crossing villager as Lip in New Leaf. Nintendo would finally release Panel de Pon to western audiences as part of its Nintendo Switch Online SNES games, although untranslated similar to Super Puyo Puyo 2 on the service as well.
An open-source clone based on the Super Nintendo games called Panel Attack
exists, which features online multiplayer/matchmaking. Additionally, several Spiritual Successor games are available and/or are in development online, including Flipon
(Released), Super Plexis
(Early Access), and Swapette Showdown
(Release Date TBA).
---
This series provides examples of:
---