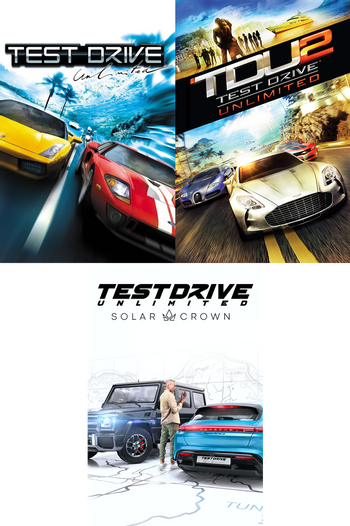 Test Drive Unlimited (TDU) is a sub-series of Driving Games in the Test Drive series. As a Continuity Reboot of the long-running series, these games are set on fairly accurate recreations of real islands where players are free to roam around in gorgeous cars, beautiful houses, and even do a bit of gambling if one wants to.
The first Test Drive Unlimited was released for Xbox 360 in 2006 and later released for PlayStation 2, Microsoft Windows, and PlayStation Portable in 2007. It is set on the Hawaiian island of Oʻahu (where the state's capital and largest city Honolulu is located). The second game, Test Drive Unlimited 2 (TDU2), was released for Windows, Xbox 360, and PlayStation 3 in 2011. It added the Spanish island of Ibiza as a location and revamped Oʻahu to keep things interesting for returning players. Both those games were developed by Eden Games, who previously made the V-Rally games.
A third TDU game, titled Test Drive Unlimited Solar Crown (TDUSC), is currently in the works by Kylotonn and will be published by Nacon. It will feature a 1:1 recreation of Hong Kong Island and will run on the framework of the developer's WRC 8 game. TDUSC will be released for Windows (via Steam and the Epic Games Store), PlayStation 5, Nintendo Switch,note making Unlimited Solar Crown the first Test Drive game on a Nintendo platform since Test Drive 2001 (2000) for Game Boy Color and the first-ever TDU game on such and Xbox Series X|S.
---
Tropes in this sub-series include:
---