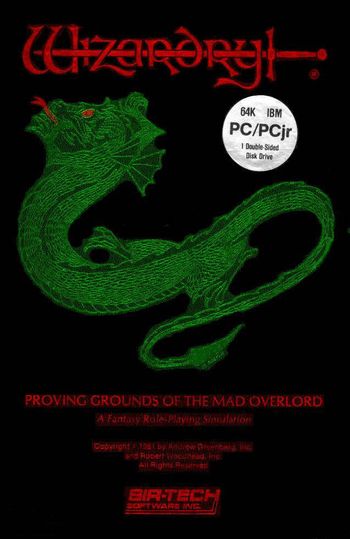 Sir-Tech's Wizardry was one of the very first computer RPGs, and alongside Ultima, was the Trope Maker for the entire genre of Role-Playing Video Games. It was a hit in the early 1980s and spawned a trilogy, an infamously hard (and decidedly different) fourth title, a fifth that returned to the style of the original trilogy, and a final trilogy of Science Fantasy games. They are:
Wizardry: Proving Grounds of the Mad Overlord (1981)
Wizardry II: The Knight of Diamonds (1982)
Wizardry III: Legacy of Llylgamyn (1983)
Wizardry IV: The Return of Werdna (1986)
Wizardry V: Heart of the Maelstrom (1988)
Wizardry VI: Bane of the Cosmic Forge (1990)
Wizardry VII: Crusaders of the Dark Savant (1992)
Wizardry 8 (2001)
The titles, up to Wiz V (excluding Wiz IV), were immensely influential, and countless tropes established there are still common today. The remaining three games did away with the old engine, spell system and story, added a mix of sci-fi and insane gods to it, but retained the sense of wry humour, resulting in something with a different feel, but really enjoyable nevertheless.
The first three games are very hard. The Big Bad can deal 100 damage to your party with one spell, and your Squishy Wizard characters rarely get more than 60hp, so he can kill half your party in the first round of combat and the other half in the next. Random high level encounters can be similarly deadly. For instance, ninjas can kill party members instantly with a critical hit. Resurrection spells don't always work, and come with a stat penalty when they do. Your mages have a limited supply of spells, especially early on, which can only be restored by returning to town at the top of the dungeon. Standard Status Effects are crippling and often deadly if you don't have the magic to cure them. The dungeons are confusing non-euclidean mazes with dark zones, antimagic zones, spinners, teleporters, and generally defy efforts to map out. And your characters can die of old age.
Wizardry IV is in an entirely separate class from the other games. You play as the villain, and the rules are turned upside down, as you now must rely on summoned monsters to escort you *up* through the dungeon, while being constantly assaulted by powerful parties of heroes. The evil wizard Werdna is your only character, and you only level up at 9 specific plot points throughout the game. Your only allies are the monsters you summon, who cannot be directly controlled, never level up, and are gone forever when killed in battle. As a mage, Werdna has little HP, so if you run out of monsters, one hit can kill him. (Fortunately, you can summon replacement monsters for free at any pentagram, so your mini-horde of monsters essentially doubles as your HP.)
The series is Big In Japan, and over 20 licensed sequels and remakes were produced by Japanese developers, most of them suffering No Export for You. Wizardry: Labyrinth of Lost Souls and Wizardry: Tale of the Forsaken Land are the exceptions. Dragon Quest writer Yuji Horii states Wizardry was a big inspiration, and one of his earlier games The Portopia Serial Murder Case had a direct shoutout in a maze section. There's even an Anime OAV based on the first game although it's somewhat dated.
This love of Wizardry-style dungeon crawlers has also directly spawned several Japanese-made Spiritual Successors, the staffs of whom thought that the licensed sequels were maybe not quite capturing the atmosphere right or wanted to try to put their own spin on the concept; Shin Megami Tensei (which mines heavily from Wiz IV in particular), Etrian Odyssey and 7th Dragon are the most notable examples that have since had influence on the genre and industry in their own right.
The series is also notable for the unusual amount of Spiritual Successors made by former developers of the series. On the Western side, David W. Bradley who directed Wizardry V through VII, made Wizards & Warriors which furthers the developments he had made to the Dark Savant trilogy so far and is considered something of an alternative Wizardry 8 by some fans. While in Japan ASCII, who ported and localized most of the original games, made the short lived Netherdomain series of mobile games, based on their Wizardry Gaiden games. Starfish, responsible for Wizardry Empire and Wizardry Asterisk, created the Elminage series which continued the Lighter and Softer, anime-inspired elements and gameplay additions used in most of the Empire games (with both Empire III and Elminage Gothic serving as similar Darker and Edgier Genre Throwbacks). The Wizardry Xth spin-off series actually had two distinct successor branches. For one, Wizardry Xth 2 was handed over to have its Serial Numbers Filed Off by ZeroDiv, who kept the Academy of Adventure aspect, but removed the sci-fi setting, creating Class Of Heroes, which they kept developing as its own series. Meanwhile the actual developers of the Xth series went on to form Experience Inc., which took the opposite approach with its Generation Xth series, mostly dropping the school-elements and instead leaning heavily into the sci-fi. They then reworked the series again as Operation Abyss: New Tokyo Legacy, and moved on to make other Wizardry-likes, like Demon Gaze and Stranger of Sword City. Additionally, while not actually based on that installment, many of the people who worked on the Japanese localization of Wizardry 8 went on to make The Dark Spire.
A Massively Multiplayer Online Role-Playing Game, Wizardry Online, was released in January 30th, 2013. Notable for being the first MMO with permadeath as a central concept, the game was developed by Gamepot, and have flat out stated they're mostly working on adding multiplayer to the existing games, with a stated goal of recapturing the early, lawless days of Everquest and Ultima Online — open PVP was also confirmed. However, the game shut down its servers on January 2014, resulting in a rather short-lived MMO.
Wizardry Online was part of an intentional attempt by several Japanese companies to perform a Reconstruction of Wizardry as a whole, called the Wizardry Renaissance, it was an attempt to define specific tropes and quality assurance levels for games with the Wizardry title. More than 11 games were released during this effort, including Wizardry: Labyrinth of Lost Souls, and WizRogue. The latest game release being the PC re-release of WizRogue in 2017.
The Dark Savant Trilogy (composed of Wizardry 6, 7 and 8), can be purchased on Steam and GOG.com.
---
The series provides examples of:
open/close all folders
Original trilogy plus the fifth title
Guide Dang It!: Especially in V. It's also combined with Viewers Are Geniuses, as the clue to one particularly annoying puzzle happens to be written in Latin. "Contra Dextra Avenue" means, roughly,

"Don't go right"

.
The fourth game
The Dark Savant Trilogy
---
The OAV provides examples of:
---