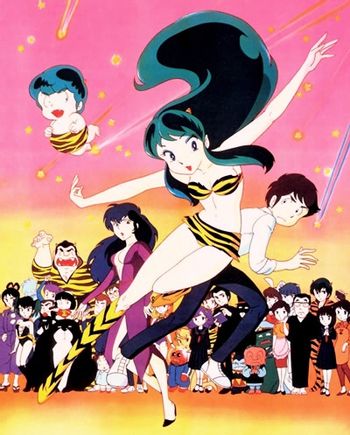 "Darling no BAKA!"
— Lum (pretty much every time Ataru Moroboshi incurs her wrath)
The work that launched Rumiko Takahashi's long career, Urusei Yatsura is often considered the original Magical Girlfriend parody, enough that the bumbling well-meaning Magical Girlfriend has become an archetype in its own right. The show's poster girl is a cutesy alien named Lum who habitually wears a tiger-striped bikini.
The show centers around Ataru Moroboshi, an Ordinary High-School Student who happens to be both the unluckiest and most perverted man in the world, possibly the entire universe. He is chosen by lot to challenge a band of alien invaders from the planet Oni in a game of tag to decide the fate of the Earth. His opponent: the smoking hot Lum, daughter of the Oni leader. After several false starts, it takes a promise of marriage by his long-suffering girlfriend and childhood companion Shinobu to bolster him to victory. Unfortunately, after his triumphant declaration of "Now I can get married!", Lum thinks Ataru wants to marry her, falls instantly in love with him... and the rest is history. Lum moves in with her "Darling" Ataru, and before long, the district of Tomobiki has become a hotbed for intergalactic weirdness involving Lum's friends and relatives, with Ataru stuck in the middle.
Unlike most Unlucky Everydudes who are only Accidental Perverts, Ataru actually is an unrepentant pervert, and generally finds his loyal "fiancée" to be little more than a burden and hindrance to his lecherous pursuits, though even he isn't below the occasional Pet the Dog moments.
If Maison Ikkoku is the first Pretty Freeloaders-style comedy, UY is one of the earliest tongue-in-cheek harem comedies, combining its outlandish premise to spice up deceptively typical plots, as well as parody the genre nearly a decade before the fact. It even manages to invert the genre it helped create (instead of one low-key guy being chased by every girl in sight and in the end choosing one, it's about a perverted guy who chases every girl in sight... except for the one girl in the universe who can actually stand to be around him).
The manga ran in Weekly Shonen Sunday from 1978 to 1987. It spawned an anime that aired for 196 episodes from 1981 to 1986, as well as 6 theatrical movies (four produced during the anime's run, one shortly after it ended, and a tenth-anniversary movie — the oddly offbeat Always My Darling), and nearly a dozen OVA's on top of that. The anime is notable for being the first major project helmed by acclaimed director Mamoru Oshii; indeed, the second film in this franchise, Beautiful Dreamer, is considered by many fans to be one of his finest.
An anime remake
called Urusei Yatsura All-Stars, that will adapt select stories from the original manga, is coming in 2022, to be shown on Fuji TV's noitaminA block. Teaser Trailer here
. It will start on October 14, 2022 and will be split into two 24-episode seasons.
---
Urusei Yatsura provides examples of:
open/close all folders
Tropes # to F
Tropes G to L
Gag Dub: The BBC made one in 1998 called Lum the Invader Girl. Only two episodes (four stories) are known to exist.
Gag Sub:

AnimEigo's DVD subtitles would often do this with characters that speak the Oni language. From about Season 2 onward, Oni dialogue — complete gibberish in Japanese — was written in the Windows "Symbol" font (i.e. Greek letters, easily decipherable). Oni subtitles tended to say things like "If you can read this, you are a true otaku." (from Movie 1) and "That Star Wars parody was pretty cool." (from an episode that had a minute-long Star Wars-themed]] [[Big-Lipped Alligator Moment crack sequence)
They also did it in at least one episode when Cherry's chanting got so bizarre that even the subtitler was stumped — a note at the beginning says "This is gibberish even by Cherry's standards", followed by a list of toiletry brands.
Love You and Everybody: Ataru loves Lum... and Shinobu, and Sakura, and Ran, and Ryunnosuke, and Benten, and Oyuki, and Ryoko...

Ataru: ...and Kintaro's teacher. In other words, I love you all!
Love-Obstructing Parents: Jariten, of course, although he's not a parent...
Love Potion: Several in the TV series. The plot of the 6th movie revolves around one.
Love Triangle: the relationships in this series can be summed up as Every Other Man in the Universe > Lum > Ataru > Every Other Woman in the universe.
Tropes M to R
Magical Accessory: Early on, Ataru forces Cherry to give him a set of yellow ribbons that, if tied around Lum's horns, make her lose her powers.
Masquerade Ball: Parodied, as the Japanese words can be read in different ways.
Meaningful Name: Plenty.

Jariten, for example, has been translated into Naughty Ten in some languages.
Ataru Moroboshi ("hit by a falling star"), Ran ("chaos"), Rei ("zero"), Shinobu ("Patience")

Mega Meal Challenge: In a anime-original episode, One restaurant challenged diners to finish an expensive and huge meal, and anyone who succeeds gets the meal for free. Look at the Characters page and see how many members of this cast are listed as Big Eaters. Yeah, it didn't work out well for the restaurant.
Tropes S to Z
---
More than anyone else, I love you, love you, love you the best!