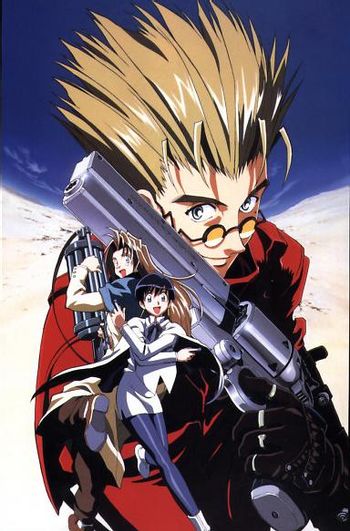 "I've never seen anyone kick so much ass in my entire life."
On the desert world of Gunsmoke, two young women — the tall, ditzy Milly Thompson and the tiny, short-tempered Meryl Stryfe — hunt for wandering outlaw and absolute pacifist "Vash the Stampede". Meryl and Milly work for an insurance company that Vash is bankrupting with the property damage credited to his name, all of it collateral from the ridiculous fights he tends to get into, which have resulted in his nickname of "The Humanoid Typhoon". Why all the fights? Vash has a bounty of $$60,000,000,000* (sixty billion double-dollars), dead or alive. Every Bounty Hunter on the planet wants his head (rest of him optional) in their hands so they can collect the money; Meryl and Milly just want to stop Vash from wrecking the cities into which he wanders.
Wacky hijinks ensue for a few episodes, then the mood darkens. Lots of people die, in many cases slowly and horribly. Survivors discover new things about themselves. Personal growth takes place. There are hints of romance. Then the mood gets darker still. For the eggheads out there, the series even has a fair amount of analysis of certain aspects of Christian theology, as viewed from a Japanese perspective, that examines the contrast between pacifist ideals and the moral obligation to protect the innocent… even if it means taking a life.
Trigun began in 1995 as a manga by artist Yasuhiro Nightow, published monthly in the magazine Shonen Captain. The series ran for 20 chapters (three tankobon volumes) before abruptly going into a hiatus due to the magazine's cancellation in 1997. After this, Nightow became involved in the production of a 26-episode anime adaptation by Madhouse, which covered what the manga had gotten to at that point, and then added its own finale to wrap things up. In 1998, the manga found a new home at the Seinen magazine Young King OURs under the new title Trigun Maximum, running an additional 97 chapters (14 volumes) and reaching its own conclusion in 2008. The manga is licensed by Dark Horse Comics. It is currently out of print, but will be receiving a new, premium "Deluxe Edition" treatment starting in December of 2023.
In 2010, Nightow started a modest series of new works for the Trigun universe in anticipation of the movie Trigun: Badlands Rumble. First it was a two-chapter story, going by the same name as the movie, drawn by Nightow himself to serve as a preview for the movie. The second was a one-shot, Trigun: Rising, it is a short tale about Rai-Dei the Blade, one of the original Gung-Ho Guns, drawn by Yuusuke Takeyama. The third, and final, was another one-shot, entitled Trigun: The Lost Plant, a story set 6 years after the original manga ending; it was drawn by Boichi and later published as an extra for the 12th volume of his own series, Sun-Ken Rock. A compilation manga titled Trigun: Multiple Bullets, featuring a number of short stories (including the previously mentioned three), was released in 2011.
There was a game announced for the Playstation 2 in 2002 called Trigun: The Planet Gunsmoke, which was being developed by Red Entertainment and published by Sega. After over a decade of no news about the game, it is presumed to have been cancelled, although some people think that it was rehashed into Gungrave.
The English dub was one of the flagship shows of [adult swim] (along with Cowboy Bebop) and helped to set the mood that the sub-channel was simply for mature audiences and not necessarily "adult" audiences.
The show, formerly licensed in the US by Pioneer/Geneon and now licensed by Funimation, is on Hulu
.
A new anime retelling produced by Orange entitled Trigun Stampede premiered on January 7, 2023, nearly 25 years after the original anime's premiere.
---
The 60-Billion Double-Dollar Tropes:
open/close all folders
Tropes A-F
Abnormal Allergy: Amelia claims that she's allergic to idiots. Sure enough, when Vash touches her hand, her arm breaks out in hives and she needs to treat it with medication right away.
A Day in the Limelight:

In Episode 14 of the anime (Chapters 10-12 of the manga), the action centers around Meryl and Milly – lampshaded by Vash once he realizes how little screentime he's gotten.
Several chapters in Maximum experiment with different points of view, including those of villains and side characters.
The Atoner: The series has several.

Vash is atoning for

destroying July City, then later for the Fifth Moon Incident, and then later still (in the anime) for killing Legato

, plus all the people he's failed to save over his long life.
Wolfwood, meanwhile, is atoning for

becoming a mercenary

.

Livio

steps into Wolfwood's shoes after

killing him

, which is one of many things he sets out to atone for.
Manga only: Rem became the primary caretaker for Vash and Knives because she wanted to atone for

failing to save Tessla from the SEEDS scientists' constant invasive experiments (which soon killed the poor girl)

.

Author Appeal: All the elaborate cowboy-like outfits and uniforms with all sorts of useless straps and buttons, huge collars, etcc, and the Cool Guns are simply because the creator likes them. The reason Vash's Trade Mark Favorite Food is donuts is also simply because the creator likes them.
Awesome, but Impractical:

Meryl carries dozens of derringer pistols under her traveling cape. Since they only carry two shots at the most, she has to throw them away after firing them off and grab fresh ones. After one shootout, Milly has to gather them all up.
Loose Ruth carries a double-barreled, lever-action rifle, with each barrel fed by its own stick magazine. Every time he works the action, the entire barrel/magazine assembly rotates 180 degrees.
Tropes G-P
Tropes Q-Z
Trickster Archetype: Vash, in particular, is an incredibly impish, baffling, and tricky character.
Used to Be a Sweet Kid:

Knives

was much more amicable and (relatively) innocuous as a child, before developing his villainous ways.
Wolfwood, Livio, and Legato, for a given value of 'sweet'; they were respectively already bitter, already carrying an Enemy Within, and already vengeance-driven at the earliest points in their lives we see them, but by comparison they come across as heart-twistingly innocent.
Downplayed with Vash. At a glance, he's forcibly changed as little as possible over the years which leaves him ridiculously childish at times. However, unlike his adulthood, his childish and sweet side was much more genuine in his childhood and he lacked some of the bitterness and angst he does in the present.

Villain Episode:

The manga has a few chapters dedicated to the bad guys such as Legato, Knives and Livio, having them as focal characters or even narrators.
Midvalley's narration of his fight with Wolfwood (during much of which Wolfwood is blind) does a lot to bring depth to his character.
Villains Out Shopping:

Played for gruesome fun with Legato's junk food addiction, which is often shown when he's not (actively) partaking in his villainous activities. Never has eating ice cream looked creepier.
The Big Bad Knives is shown casually drinking A Glass of Chianti in an oasis while waiting for Vash in the anime, playing the organ in bondage gear in his base and hanging around with a depressed/psychotic expression in the manga. Knives might be the laziest, most idle Big Bad around, which is bound to make us think he'd be less messed-up if he had a hobby or something.
As for Elendira, she likes reading cards while fawning over Knives, apparently.

Violence Really Is the Answer: Discussed when Wolfwood and Knives both argue with the pacifist Vash that sometimes you need to get violent, each in very different ways: Wolfwood has verbal discussions about their respective philosophies, whilst Knives tries to brutally force Vash to accept Knives' viewpoint by sending fanatic killers after Vash with the instruction to kill Vash and anyone around him or die trying. Whether or not the series actually agrees with this philosophy is more ambiguous.
Wham Episode: The anime has several of these.

The biggest one is probably Episode 12, "Diablo". Up to this point, the majority of the series was basically 'The Wacky Adventures of Vash & Friends'. This episode introduces the villainous Legato, and things only get darker from there.note
In Episode 24, Vash

is made to break his personal philosophy to not take lives when he kills Legato to save Meryl and Milly

, something that mentally breaks him.
Whole Episode Flashback: Episode 17 of the anime, "Rem Saverem", focuses entirely on Vash's backstory with his mother figure and brother as a child.
Window Watcher: In an early episode, Vash has been hired to guard a young woman named Marianne. He hears the water running in her bathroom, and ties a rope around his waist so that he can lower himself from the roof to peek through the window. She wasn't there, though, and when Millie walks in a second later, he claims that he had been checking the roof for spooks.
Word Salad Title: The manga's subtitle is, "Deep Space Planet Future Gun Action!!!"
X Days Since: In an interesting variation of this trope, the first chapter of the manga shows a sign in one city counting the number of murders and serious injuries that had occurred that day.
Yandere: Manga Wolfwood can be seen as Cute and Psycho — you start suspecting something's wrong, when he turns Grey the Ninelives into minced meat, with a Slasher Smile. Also, Knives might be a Yandere for Vash, because nothing is too creepy or dysfunctional for him. Depending on interpretation, Vash might also be Cute and Psycho.
You Don't Look Like You: Downplayed for the character designs in the Trigun Stampede reboot. Vash still has blond hair, yellow sunglasses, and red outerwear, but those are pretty much the only things his design has in common with all other depictions of him. Meryl keeps her general hairstyle and color scheme but has a completely different outfit, and Livio has a ponytail and is much scrawnier.
Younger Than They Look: Vash and Knives already looked like young boys after being born just one year, something that astonished everyone.
---