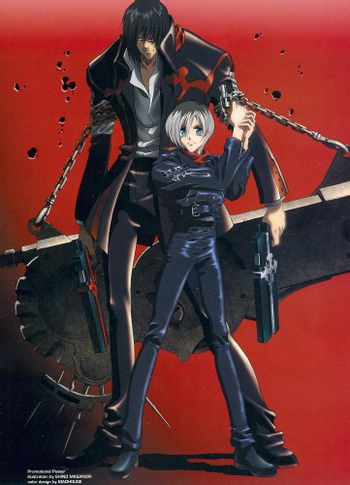 To protect is to never betray.
In each hand he wields "CERBERUS", his twin handguns and on his back he carries a coffin filled with heavy weapons. Cloaked in darkness and smelling of the grave, he is back to kick ass!
— Series tagline
A series of stylish action third-person shooter video games developed and published by Red Entertainment and created and designed by Yasuhiro Nightow, known for also creating Trigun and Blood Blockade Battlefront. The first two games in the series were released for the PlayStation 2, in the vein of Devil May Cry minus the platforming and puzzle-solving.
Gungrave (2002): The original game revolves around a former hitman named "Brandon Heat", who had been been betrayed and murdered by his former best friend, Harry MacDowell, about fifteen years ago. However, Brandon's body was brought back to "life" through the Necrolization Project—an advanced technology that can reanimate the dead. Brandon was reborn as "Beyond the Grave", a techno-engineered gunslinging revenant. He receives his necessary sidearms from a young girl named Mika (who just so happens to be the daughter of the former head of the Syndicate). Seeking his protection, Mika returns to Grave his pair of massively-sized handguns, the "Left and Right Head of Cerberus". Grave's caretaker and creator, Dr. T., also provides him with a secondary weapon, the "Coffin", a large device stocked with multiple heavy weapons.
Now armed, Grave can set out for his mission—to destroy the Millennion Syndicate, the very organization he used to work for, in this darkly twisted tale of love, loss, betrayal, and revenge.
Gungrave: Overdose (2004): Three years have passed since the first game, while Grave has been placed into hibernation. Unfortunately, the deadly drug called "Seed" has resurfaced and Mika Asagi, now Grave's young ward, knows all too well of the chaos that will ensue if the drug spreads worldwide. Thus she awakens Grave for his protection and help once again. The game introduces two new playable characters—Juji Kabane (a swordsman skilled with flaming sword techniques and fellow deadman), and Rocketbilly Redcadillac (a rockabilly ghost haunting an electric guitar and a friend of Juji's). A supporting character is also introduced—a young amnesiac boy genius who calls himself Spike Hubie, whom Mika met on her travels.
Each playable character learns various types of Demolition Shots and have different normal skills than others. Juji excels with close-range combat but his guns are much weaker than the other two players. Rocketbilly Redcadillac has poor melee ability but possesses the best long-range abilities of the three, while Grave himself is fairly balanced.
The 26-episode anime from 2003 is an alternate retelling of the original video game. It follows Brandon's life from his start as a "street punk", to his rise as a Millennion sweeper, to his "fall" and rebirth as Grave. Despite having the same cast, the anime comes at the same basic plot from a more character-driven angle, and is best considered an Alternate Continuity. It definitely holds its own, and is recommended to anyone who's fond of mafia drama in the vein of The Godfather.
After Overdose, the series was put to rest. In 2018, a new game, Gungrave VR was released as a PSVR title for the PlayStation 4, developed by Iggymob. In 2022, a fourth game was released, Gungrave G.O.R.E., also devloped by Iggymob.
---
Games in the Series
Kick Their Ass! (with examples!)
Tropes That Apply To Both Series
One-Man Army: Grave.

Pretty much all of the playable characters are this.
Tropes That Apply To The Video Games
Tropes That Apply To The Anime
---
For doing what was right for The Family...he was murdered.
---