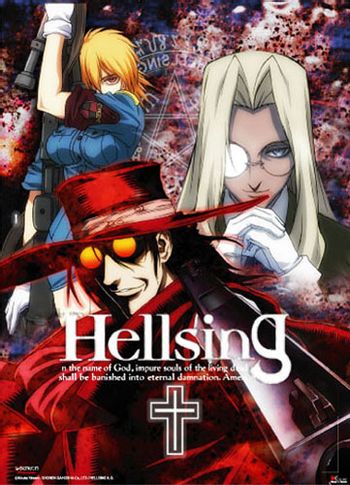 "In the name of God, impure souls of the living dead shall be banished into eternal damnation. Amen."
In the jolly old land of Great Britain sits the Hellsing Organization. Led by Integra Hellsing, the clandestine group's mission is to protect Queen, country, and the Anglican Church from supernatural threats—mainly vampires. As the series begins, one such vampire has been ravaging the English village of Cheddar and turning its inhabitants into "ghouls". In response, Integra sends Hellsing's most powerful operative—a vampire named Alucard—to deal with things.
Alucard confronts the vampire as he is about to murder Seras Victoria, the last survivor of police forces sent to handle the situation. In order to kill the vampire, Alucard shoots through Seras, mortally wounding her as a result. As she bleeds out, she receives an offer from Alucard: He can save her life...but only if she agrees to become a vampire herself. Seras accepts, Alucard turns her, and she soon becomes the newest member of Hellsing. Alongside Integra, Alucard, and Hellsing's human operatives, Seras ends up on the front line of the fight against mass-produced undead called FREAKs.
The Hellsing TV series (also called Hellsing: Impure Souls in media) by GONZO explores Seras's perspective as she adjusts to life as a vampire in the employ of Hellsing and helps unravel the mystery of the artificial vampires and the FREAK chips. The first half of the series stays generally faithful to the original Hellsing manga, although specific themes (e.g., what it means to be "human") and character development are given more depth, while the latter half of the show diverges wildly from its source material as a result of overtaking the manga.
Chiaki Konaka was a writer for the show, and it features his customary dark themes and H. P. Lovecraft references.
For the original manga and OVA, see Hellsing. The TV series has its own characters page.
---
Hellsing contains the following tropes:
---