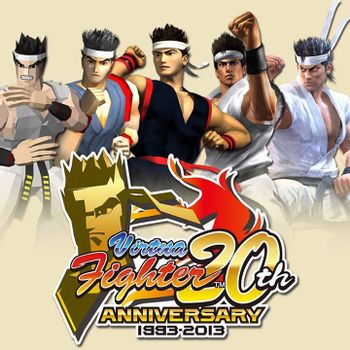 Virtua Fighter
is a
Fighting Game
series produced by
Sega
's AM2 development team. Debuting in the arcades in 1993, it is notable for being the first truly successful 3D fighting game franchise, paving the way for the likes of
Tekken
and
Dead or Alive
.
note
The game's story is about the dealings of the mysterious corporation, Judgment Six (J6) who holds the World Fighting Tournament as a front to create the ultimate fighter. A major recurring storyline in the game is with J6's involvement with some of the other competitors. Kage-Maru's mother, Tsukikage, is turned into Dural, the final boss of the series. Sarah and Vanessa are both kidnapped by J6, the latter used to make the newer version of Dural after Kage saved his mother.
Compared to other fighting game franchises, Virtua Fighter doesn't have much focus in its storyline. This is partially due to trying to make the combat mechanics more realistic and the depth in the characters' fighting styles as a whole and the moves they use. Virtua Fighter is known for the balance of its characters between each other. The series is also notable for being one of the few fighting game franchises to preserve its character roster throughout every entry, adding newcomers without removing any of the established fighters. The sole exception was Taka-Arashi, who was retired in Virtua Fighter 4 due to the difficulty of integrating the sumo wrestling style into the new engine, only to return in Virtua Fighter 5R.
The main lineup consists of:
Virtua Fighter (1993, Model 1) (1994, Saturn) (1995, 32X)
Virtua Fighter 2 (1994, Model 2) (1995, Saturn) (1997, Windows PC) (2004, PS2) (2012, PS3/Xbox 360) (2018, PS4 via Yakuza Kiwami 2)
Virtua Fighter 3 (1996, Model 3)

Virtua Fighter 3tb (1997, Model 3) (1998, Dreamcast)

Virtua Fighter 4 (2001, NAOMI 2) (2002, PS2)

Virtua Fighter 4 Evolution (2003, NAOMI 2) (2004, PS2)
Virtua Fighter 4: Final Tuned (2004, NAOMI 2)

Virtua Fighter 5 (2006, Lindbergh) (2007, PS3/Xbox 360)

Virtua Fighter 5 R (2008, Lindbergh)
Virtua Fighter 5: Final Showdown (2010, Lindbergh) (2012, PS3/Xbox 360) (2018, PS4 via Yakuza 6)
Virtua Fighter 5: Ultimate Showdown (2021, PS4) - Remake using the Dragon Engine.
Related games in the series include.
Virtua Fighter Remix (1995, ST-V/Saturn) - A re-release of the first Virtua Fighter that features updated texture mapped graphics.

Virtua Fighter PC (1996, Windows PC) - Features the original and Remix-style graphics.

Virtua Fighter CG Portrait Series (1995-1996, Saturn) - A series of CGI gallery discs featuring image songs for each character. Ten main volumes (one for each member of the VF2 roster) were sold in Japanese retailer, while the eleventh disc (which covered Dural) was only given away as a mail-order by sending the spine cards for the other ten discs to Sega.
Virtua Fighter 2 Genesis (1996, Genesis) - An official 2D demake.
Virtua Fighter Kids (1996, ST-V/Saturn) - A version of VF2 starring chibi versions of the cast.
Virtua Fighter GG Portrait Series (1996, Game Gear) - Similar to the CG Portrait Series, but features the Kids versions of characters. Only had two volumes: one for Akira and another for Pai.
Virtua Fighter Animation (1996, Game Gear) - A 2D tie-in to the anime series. A version was released for the Master System in Brazil.
Fighters Megamix (1996, Saturn) - A crossover with Fighting Vipers. Based on an abandoned Saturn port of VF3.
Virtua Quest (2004, PS2/GC) - A 3D action RPG spinoff.
Virtua Fighter: 10th Anniversary Remix (2004, PS2) - A retraux version of VF4 Evolution done in the same graphical style as the first game.
A 35 episode anime aired in Japan from October 2, 1995 – June 27, 1996. Only the first 24 episodes were dubbed into English, though the entire series has been dubbed in Spanish, Italian, and Arabic. An OVA titled Virtua Fighter Costomize Clip was also released in 1996, consisting solely of animated music videos set to songs from the Virtua Fighter image song album Dancing Shadows. The OVA is incredibly obscure, but it can be viewed here.
Akira, Pai, Sarah, and Jacky were playable guest fighters in the fifth Dead or Alive game. Akira, Pai and Dural have also made appearances in Project × Zone, with the first two together as a playable paired unit and the last as a recurring boss. Akira and Pai also returns for Project X Zone 2, although Pai is instead a solo unit and Kage-Maru replaces her as Akira's partner. Akira also appears in Dengeki Bunko: Fighting Climax as a Final Boss with Pai as an Assist Character. He even appears as an Assist Trophy in Super Smash Bros. Ultimate, in his blocky Retraux appearance from the first game.
Now has a Fanfic Recommendations page.
---
Examples list - Ready... GO!
Put on a Bus: Taka-Arashi, between 3 and 5 R. Other than him, the series is notable for never dropping any character, new or old, a rather unique case for long-running fighting game series.
Retraux: Virtua Fighter 10th Anniversary, which is Virtua Fighter 4 with the first game's blocky polygons and soundtrack. 5: Ultimate Showdown carries on this tradition with its "Legendary Pack" Downloadable Content which gives the cast VF1 character skins, a VF1-style stage, and a VF1-inspired UI.
Rank Inflation: After reaching 10th dan, players can revive titles (see Kyu and Dan Ranks). Tropes Are Not Bad in this case.
Ship Tease:

Akira gets this with Pai a lot, but only outside of the games. It's extremely prevalent in the anime and even comes up in the American comic. Borders on Official Couple.
In addition to that, Jacky and Pai are ship teased on two separate occasions when they travel together without Akira, first being thought of as a couple on a honeymoon, and then confronted by paparazzi in the second season who think they're having a secret affair, since by that point they've become celebrities.
In the actual games, Aoi/Brad is teased in one intro and one of Brad's special item wins.

Shown Their Work: When developing the early games, Yu Suzuki required the development team to learn martial arts. This helped make the moves realistic, and the style utilized by each character is a very close approximation of it in real life, with a few liberties taken for the sake of fun. For example, many of Jacky's moves utilize Wing Chun techniques, which were the foundation of Bruce Lee's Jeet Kune Do, as opposed to simply copying moves from Bruce Lee's movies, and ends up being much closer to actual Jeet Kune Do than the average Bruce Lee Clone.
Spin-Off: Virtua Quest, a 3D action beat 'em up featuring the cast of Virtua Fighter 4 as fighting data in Cyberspace.
Tech-Demo Game: One of the tenants of the franchise which got more defined as time went on. In particular, the first one just showed the viability of a 3D polygonal fighting game at all; and 3 includes elements such as stages with much more clearly defined limits and angled floors, along with costume pieces that can be knocked off most of the fighters, to say nothing of Dural's new reflective design.
Technician Versus Performer: This series is the technician to every other fighting game's performer.
---