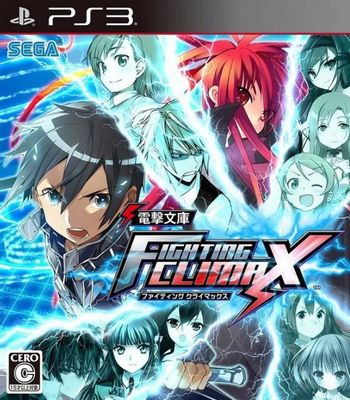 Dengeki Bunko: Fighting Climax
is a
Fighting Game
crossover
between various
light novel
series published under the
Dengeki Bunko
imprint (
and
Valkyria Chronicles
and
Virtua Fighter
) to
celebrate the 20th anniversary
of the imprint. Developed by French Bread (of
Melty Blood
fame) and published by
Sega
, it was first released in Japanese arcades in March 18, 2014, with a
PlayStation 3
and
Play Station Vita
release followed on November 13, 2014.
The gameplay consists of players choosing two characters from a playable and support roster, with the latter being used for various assist attacks. Each character can use weak, medium and strong attacks as well as a support button to summon the assist character. One can also utilize various Impact Skill attacks unique to each character as well as two Climax Arts (the Super Art and the Ranbu) for super moves. Blast Attacks can be used to escape from the opponents combos, launch an opponent allowing for more diverse combos and, when used neutrally, to power up the character and slowly gain more health and meter.
Modes found in the console release include a story mode; a Dream Duel campaign; as well as online multiplayer.
Despite many similar crossovers—like the previous Dengeki Bunko cross over Dengeki Gakuen RPG: Cross of Venus—never being released outside Japan, it's been released by SEGA in North America and Europe on October 2015.
A new Dengeki Bunko: Fighting Climax title update was announced for Summer 2015, titled Dengeki Bunko: Fighting Climax Ignition, featuring new characters and updated mechanics, such as the Blast Character, a third set character that determines what kind of Blast you are able to use, as well as Ignition, a mechanic that allows you to assign a buff to one of your allies (Player, Support, or Blast) at the end of each Round.
Playable Characters
Introduced in Original versions
Introduced in Title Update version
Assist Characters
Introduced in Original versions
Introduced in Title Update version
See also Nitroplus Blasterz Heroines Infinite Duel, another Massive Multiplayer Crossover 2D Mascot Fighter featuring a primarily female cast duking it out in anime-based Sprite/Polygon Mix style, except with Nitro+ characters.
The game received a 2018/2019 successor for mobile devices called Dengeki Bunko Crossing Void, a turn-based RPG also developed by SEGA that reuses assets from this game. However, it is defunct as of 2022.
---
This game provides examples of:
isn't much different
from the threat of dying, as in SAO.
Wouldn't Hit a Girl: Subverted with Shizuo: In Durarara!!, he believed passionately and firmly that "hurting girls is bad", however, in this game he seems perfectly fine with fighting female adversaries and openly threatening to kick their asses. And speaking of which, Izaya also has no problem stomping on them.
---