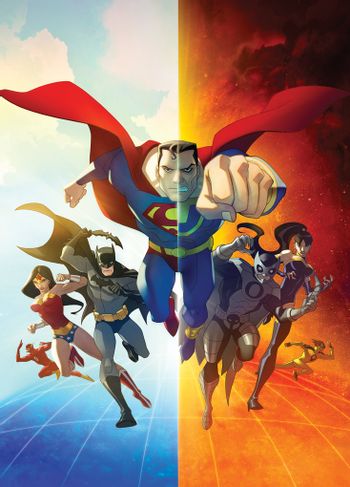 Somewhere, in another universe, there is another Earth where life is reversed. The human heart is on the right side, and people who we know to be supervillains on our Earth, such as Lex Luthor and Slade Wilson, are some of this mirror-world's greatest heroes. But on the other end of the spectrum, there is the Crime Syndicate. Made up of Evil Counterparts of the Justice League, they run an empire of organized, superpowered crime that has all but taken over the world. Lex Luthor, in a desperate attempt to stop them, crosses over to the mainstream DC Universe to ask the League for help. The League agrees, but they're facing off against a world overflowing with supervillains—and Owlman (the counterpart to Batman) has his own deadly agenda...
This direct-to-DVD film, part of the DC Universe Animated Original Movies line, is based on Grant Morrison and Frank Quitely's JLA - Earth 2. It was originally planned as a Justice League Unlimited prequel film, dealing with how the League decided to make the jump to Heroes Unlimited after Starcrossed, but after JLU ended, the project was briefly shelved before being rewritten to be a separate continuity. Still, the tone is perfect for a DCAU entry, and the JLU roots are still very obvious—it's implied that this version of the League used to include Hawkgirl, the Flash has the same characterization as JLU, the Watchtower is in the middle of being rebuilt, and Heroes Unlimited is a plot point.
An important fact to keep in mind is that, despite the similarities between the two factions, the Crime Syndicate of America is not composed of Mirror Selves of the Justice League of America. Though not explained within the film itself, the members of the Syndicate have different personal and professional backgrounds, with both different origins for their superpowers and different secret identities note Ultraman is not Kryptonian, Owlman is Thomas Wayne Jr. rather than Bruce Wayne, Superwoman is a counterpart to Mary Marvel rather than Wonder Woman, etc. . This is why the "twins" have different voice-actors note bar Green Lantern and great physical differences from their counterparts; they are actually not the same people as those in the League.
The DVD was re-released with both DVD and Blu-Ray versions embedded in a hardcover edition of JLA - Earth 2.
---
Justice League: Crisis on Two Earths contains examples of the following tropes:
Shut Up, Hannibal!: Batman does this twice to Owlman during the climax. The first time he asks if Owlman intends to talk him to death, the next one is one of the biggest Moments Of Awesome in the film. Wonder Woman does this to Superwoman as well.
Shut Up, Kirk!: Owlman gets one off on Batman.

Batman: If we're really alike, you know this is wrong. You must have been a good man once.
Owlman: No. Not good. Never good. After all, I'm only human.

Slasher Smile: Owlman flashes several wicked grins during his final fight with Batman.
Smug Super: All of the Syndicate members are ungodly smug about their powers.
The Sociopath:

Ultraman, who uses his power to become the "Don o' Dons," and threatens the families of anybody who opposes him.

He only agrees to save the multiverse to protect his own skin, and expects a reward for it.

Owlman, who is calm and collected even when the rest of the Crime Syndicate is enraged, but is secretly completely unhinged.

When he discovers the multiverse, he elects to destroy it because he feels nothing matters if another universe is created every time he makes a decision.

Superwoman, a ridiculously violent sadist who wants to make Batman her Sex Slave, and gets off to breaking ribs. When Owlman lets her in on his plan to destroy the multiverse, she's turned on by it.

Soft-Spoken Sadist: Owlman rarely talks above an eerie whisper, and just so happens to be the most unhinged member of the team.
Spotlight-Stealing Squad: It's not as bad as in some adaptations, but as ever, Batman (and his Evil Counterpart, Owlman) do hog a lot of the action, especially in the finale. Somewhat unavoidable with Owlman being the Big Bad and all.
Statuesque Stunner: Wonder Woman, naturally, and Superwoman as well, especially since concept art shows her at roughly Superman's height.
Stealth Pun:

When the mugshots for the villains come up, one of them looks like Mr. Terrific, except with a H on his face, making him Mr. Horrific.

Better: Mr. Terrific has several doctorates. The version with an H on his face could well be Dr. Horrible.

"Made Men" is not only a Stealth Pun, but a Double Entendre. Many of the villains of the CSA are literally made, as in transformed from normal people into superpowered beings, such as Superwoman's lieutenants and Jimmy Olsen.
The Quantum Entanglement Device is the Q.E.D. Q.E.D. is quod erat demonstrandum in Latin, which means "which is what had to be proven", which is

Owlman

's goal of testing the idea of destroying the multiverse.
Straw Nihilist: Owlman, who believes that parallel universes render free will meaningless. Which is why he wants to blow them up. Heck, he doesn't even care during his death scene.

It's very likely that

Owlman

was wrong about new universes being created every time someone makes a decision. Human organs being reversed and blue kryptonite affecting Ultraman the way green kryptonite affects Superman couldn't possibly be the results of decisions made by any sentient being. It seems that Owlman just jumped to a conclusion that justified his already nihilistic outlook, so it probably still "doesn't matter" if he knows he's wrong.

Strong as They Need to Be: Owlman's suit. At first, he's able to overpower Wonder Woman, then when he's fighting Batman that's completely ignored, and when they fight on

Earth Prime

, Owlman kicks his ass at first, but he's still not as strong as he was in the start of the film.
---