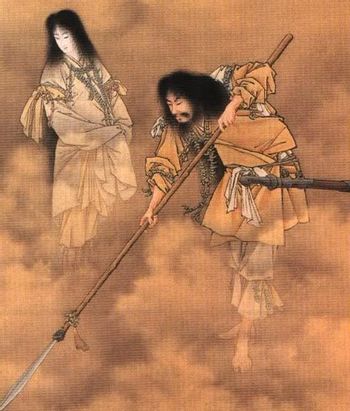 Naturally, modern Japanese anime, manga, video games, etc. often make references to their country's mythology. The Kojiki and Nihon Shoki, historical records containing the first detailed accounts of Japanese folklore, act as the sources for many famous tales of heroes and legendary beasts. This, combined with the spiritual traditions of Shinto with its vast pantheon of gods and demons, plus Buddhist influences primarily from Chinese Mythology, creates an abundant mythos. Here are summaries of some of the most well-known stories.
In the beginning, there was darkness, stars, and an endless ocean. Amongst the first gods born were two siblings named Izanagi-no-Mikoto (male) and Izanami-no-Mikoto (female). They came down from heaven and created the first land by stirring the ocean with a spear, and after that, they built a house,
got married and made some babies
. The first of these babies was the malformed fishing god. The next eight were the islands of Japan. They had many more children; however, Izanami died
giving birth
to the
god of fire
, Kagutsuchi, and was sent to the underworld. Izanagi missed his wife and travelled there to retrieve her, to which she agreed on the condition that her husband was not to look at her until they reached the surface. Of course, he looked anyway and saw that she was now a ghastly, rotting corpse. Izanagi freaked out and ran away, rolling a boulder in front of the entrance in order to escape Izanami's wrath. Izanami promised that she would kill 1,000 people every day in revenge. Izanagi countered that he would create 1,500 people every day.
And that was the end of their marriage.
Compare and contrast Orpheus and Eurydice from Classical Mythology.
The Three Great Gods
Purifying himself after escaping the underworld, Izanagi stripped, and each piece of clothing became a god. Lastly, he washed his face in a stream, and from his left eye came Amaterasu-Ōmikami, goddess of the Sun and ruler of heaven; from his right eye came Tsukuyomi-no-Mikoto, god of the Moon and ruler of the night; and from his nose came Susanoo-no-Mikoto, god of storms and ruler of the seas.
The volatile Susanoo didn't like his siblings or his job and grew ever more jealous, until one day Amaterasu tricked him into losing a bet. In retaliation, he skinned a pony and threw it at her while she was sewing, killing another goddess. So Amaterasu ran away and hid in a cave, plunging the world into darkness. No one could get her to come out, until Ame-no-Uzume, goddess of merriment, hatched a cunning plan. She hung a mirror and a necklace (the Yata no Kagami and the Yasakani no Magatama, respectively) on a tree outside the cave and danced around naked making lots of noise to get attention. When Amaterasu poked her head outside to see what the commotion was about, she was enchanted by her own reflection, allowing another god to pull her out of the cave and block the entrance. Thus, sunlight was restored, and all thanks to a striptease.
The slightly less volatile Tsukuyomi, meanwhile, got bored of perpetual darkness and decided to move in with Amaterasu (and in some versions marry her). Things were going well until he went to a banquet in his sister's honor, which was hosted by Uke Mochi, the goddess of food, who provided the feast by vomiting and/or defecating onto the table. Tsukuyomi was sickened and offended by this so he killed her. Amaterasu was so upset by this that she vowed never to look at Tsukuyomi again, running away whenever she saw him, which is why day and night are separate. Clearly, poor Amaterasu had to put up with a lot of abuse from her brothers.
Susanoo was kicked out of heaven for being a jerk, and sometime later went to a village where he met a crying family. They explained that a giant eight-headed serpent called Yamata no Orochi had eaten all their daughters but one. Susanoo agreed to slay Orochi in return for the last daughter, Kushinada-hime, as his wife. He killed the beast by laying out giant casks of saké for each head and cutting them off when they all became drunk. He found a sword in one of its tails that could cut anything and called it Ame-no-Murakumo-no-Tsurugi ("Sword of the Gathering Clouds of Heaven"). It was later named
Kusanagi
, which means "Grass Mower". Susanoo gave it to his sister as a sign of good faith, though he remained no less of a jerk.
The three sacred artifacts in the above myths, the mirror, the necklace, and the sword, are known as the Japanese Imperial Regalia, symbols of the divinity of the Emperor. They represent wisdom, benevolence, and valor, respectively. They are said to have been brought to Japan by Ninigi-no-Mikoto, the grandson of Amaterasu and an ancient ancestor of the Imperial Family.
See also Youkai.
---
Works that constitute Japanese mythology:
<!—index—>
---
Works that include elements of Japanese mythology:
Arts
Live-Action TV
Video Games
---
Japanese mythology provides examples of:
Beware the Nice Ones: Okuninushi is a Nice Guy until Emperor Suujin's reign, when he causes a plague and demands a new temple to end it. Doing so stops the plague, but then makes the next emperor's son dumb, requiring the emperor to build another temple to him.
Big Beautiful Woman: Uzume is often depicted as being very cute and chubby. Even the leaner versions tend to have a softer look than the other main goddesses.
---