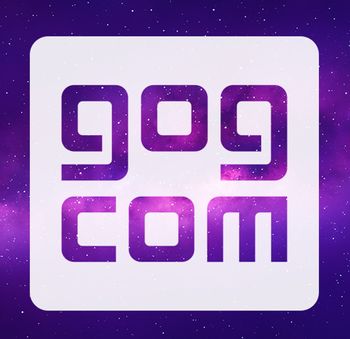 GOG.com
(
formerly known as Good Old Games
), which launched in 2008, is a
digital distributor
of video games for
Windows
,
Linux
and
Mac OS
. Owned as a subsidiary of Polish company
CD Projekt
, via the Cyprian company GOG Ltd., GOG.com is best known for ports of
abandonware
titles from
The '80s
and
The '90s
to modern operating systems, though they also have a decent catalog of current releases, ranging from mainly
indie games
to even system-demanding AAA titles.
A major selling point is their distribution of games without DRM, in contrast to services such as Steam and Origin. Additionally, the older games in their catalog are all modified to run properly on modern systems, sometimes better than they did at the time (frequently using DOSBox and ScummVM emulation, as well as patching in certain games), and usually include lots of feelies such as soundtracks, manuals, and forum avatars, as well as scans of feelies which came with the original game (maps, comics, and the like). With older games, the feelies frequently take up more hard drive space than the game itself.
Many of the titles in their catalog are compilation re-releases: for instance, the first three Ultima games are one package, the next three are another, Ultima VII and its Expansion Pack Serpent Isle are a third, and the Ultima Underworld duology are yet a fourth.
Since August 2014, GOG.com sells DRM-free movies, so far mostly indie productions which touch upon the gamer and nerd culture in some way.
In 2016, GOG.com launched a completely optional (aside from multiplayer) standalone client similar to Steam and EA's Origin called GOG Galaxy and began doing big sale events similar to Steam's.
In 2019, amidst the Steam vs. Epic Games Store fight and the general public complaining about the huge amount of different launchers they have to keep all the time, GOG announced their answer to it with GOG Galaxy 2.0, which was in closed beta until December where it has entered open beta, and is supposed to integrate all of the users libraries of different launchers into one.
In late 2021, after reports of net losses operating the storefront, GOG announced that it'll refocus their next releases by prioritizing "handpicked selection of games" over mainstream games.
Starting early 2022, GOG has now also started to stock various uncensored adult games and Visual Novel's such as Full Metal Daemon Muramasa and Dead End Aegis while competitors like Steam have become increasingly strict with their approach to such games, adding a further distinction to the launcher field.
---