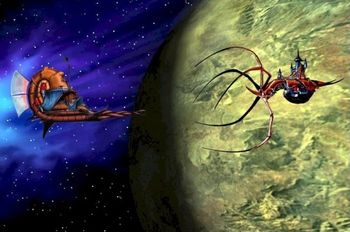 Spelljammer (released on November 1, 1989) is an Advanced Dungeons & Dragons setting that adds up to D&D in SPACE. It has a small but loyal following. Created during a dark era of Executive Meddling (see the Trivia page for details), it was an attempt to cash in on the popularity of the Standard Sci Fi Setting in a fantasy RPG.
The premise of the setting is to link each of D&D's then-popular campaign settings together by means of the old Ptolemaic view of the cosmos
; the worlds of Greyhawk, Dragonlance, and the Forgotten Realms were (along with thousands of other worlds) stated to be contained in their own "crystal spheres", massive hollow balls large enough to each contain a whole solar system. Some were heliocentric systems, sometimes geocentric, and some were flat worlds set upon the backs of great tortoises or other "starbeasts". Or something else entirely. The stars you see from your bedroom window are not other suns — they're actually balls of light (or glowing gems) stuck to the interior of your world's crystal sphere. Unless, of course, you're in a sphere that has giant glowing beetles slowly crawling on its inside surface. It happens.
Flying ships, called spelljammers (not to be confused with the Spelljammer, a legendary ship miles in length) traverse wildspace, the void within each sphere, traveling from world to world (which always seem to support life no matter their distance from the sun). The ship picks up an "air envelope" when it leaves the atmosphere, so breathing is limited by the number of crew and the size of the ship, and gravity is always directed toward the deck from both above and below. And outside the crystal spheres (accessible through natural portals or transportation magic), lies the Phlogiston (or "the Flow"), a gaseous, highly incendiary substance that's all the colors of the rainbow and lets your ship travel at warp speed as long as you're in one of its currents.
Spelljammer was utterly preposterous, didn't really care one whit about real-world astronomy or physics, and was completely aware of this. Never taking itself all that seriously, it was one of the few inherently fun games that TSR was permitted to publish in that era. A very brief list of some of the things that you will find in Spelljammer, besides a deliciously crazy mish-mash of everything D&D has to offer: Weird Science, Space Pirates, giant space hamsters, stuffy British elves, and gnomes who think that catapults are a good replacement for staircases.
Due to the limited print run (again due to Executive Meddling), the Spelljammer materials can mainly be found at DriveThruRPG.com
.
A parody setting released by the guys who made Hack Master, HackJammer, attempted to fit the setting to a well-tested set of rules that made it more playable, but for many it was too little too late.
A 3rd Edition remake of the setting appeared in an issue of Dungeon Magazine. While thematically identical to the original Spelljammer (although with its own default campaign setting limited to a single system), it removes the Phlogiston/Crystal Spheres to replace them with the vacuum of space and star systems/galaxies, with the notable difference that suns are also portals to the Elemental Plane of Fire with their own atmospheres and natural satellites (apparently magic still outright replaces physics). Additionally, a later issue of Dragon Magazine included 3rd edition versions of popular Spelljammer races. Other than that it was mostly abandoned (no proper products) and left to fans.
Spelljammer received some references in Fourth Edition material: it was one of the settings listed as possible to see print, and some Spelljammer content has made it into the Manual of the Planes (as a ship to sail the Astral Sea and to use to Plane Shift) and Forgotten Realms Campaign Guide (specifically referring to the crystal spheres and phlogiston). Sadly, nothing came of this; as 4e ends there is no Spelljammer in sight (though an Epic Destiny in Heroes of The Elemental Chaos lets you become a Regiar). Mike Mearls said that this wasn't so much due to Spelljammer being too silly but rather how hard to pull off the crossover aspect is. He said that if they were going to do it in D&D Next, it'd be "its own thing"...
Then, during the D&D Direct event on April 2022, Wizards of the Coast announced that the Spelljammer setting will finally return for the game's Fifth Edition with a sourcebook bundle consisting of Astral Adventurer's Guide, Boo's Astral Menagerie, and an adventure module titled Light of Xaryxis, which is set to be released on August 2022.
There's one series of novels (The Cloakmaster Cycle
), one short-lived DC comic book series, one gamebook, and one Video Game (Spelljammer: Pirates of Realmspace) using this setting. The dedicated fan portal also tracking usenet groups and keeping mirrors of Spelljammer fan-sites that go down is spelljammer.org
.
---
The setting contains examples of:
---
The specific stories and accessories contain the following:
---