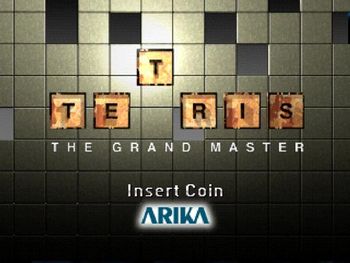 Ready, go!
Thought you were awesome at Tetris? Guess again.
Tetris: The Grand Master is a series of challenging Tetris games developed by Arika, intended for advanced players.
The TGM series falls into a lineage of previous Japanese Tetris arcade games, starting with Sega's original 1988 Japanese arcade version of the game. This lineage gives it characteristics like initial piece orientation, a delay for a piece to lock down when it hits the stack (allowing a bit of last-moment maneuvering) and even the piece color scheme is identical.
However, there are a few mechanics that alter the game dramatically. Leveling up, for instance, is no longer just done through clearing lines; instead, every piece you drop will raise the level counter by one, as well as clearing lines (one per line clear). However, level numbers also take on a different meaning: the game speeds up only at particular levels, rather than with every level. The level stops going up at level n+99, where n is a multiple of 100; at that point you must clear a line to level up. Like the Sega arcade game, where the speed went up then back down before going back up, the game gives the player a small respite by (briefly) slowing back down at level 200. All too briefly, in fact.
At level 500, the game's drop speed maxes out and pieces drop instantly in what is known as "20G"note 20 grid cells per frame (1/60th of a second). The playing field is 20 blocks high. Do the math. speed, forcing you to slide pieces along the stack (or ground) into place. And in newer games, some of the game's finer details are adjusted to make the game even harder. 20G went on to be featured in other, more mainstream Tetris games, such as Tetris DS, but most of those games had a mechanic known as "infinite rotation", so in practice, the drop was instant but the lock could be delayed indefinitely for each piece; this is not the case in TGM. In speed-ups after 20G, the time that the pieces take to lock decreases. The game ends at level 999.
Another major mechanic is the grade system. Instead of being ranked by score, you are given a grade, typically starting at 9 and going down to 1, followed by S1 through S9, followed by the titular Grand Master rank (or filler grades between S9 and GM, depending on the game). In the original TGM, Scoring Points will raise the grade, but newer installments use more complex mechanics to increment one's grade.
The series spans multiple games:
For many years the series was seen as a something of a unicorn among western audiences, as none of the games were officially released outside Japan, none of the arcade games had home ports (until 2022, at least) and even the one home game, TGM ACE was seen as not exactly a TGM game, mechanically.
This lead to bootleg clones that simulate the TGM series gameplay, including NullpoMino, a Java-based open-source clone with a wide variety of modes (not just TGM) and customization, as well as online multiplayer, and Texmaster
, a more minimalist clone aimed simply at simulating TGM modes, which is possibly most noteworthy for inciting the anger of Arika (and allegedly getting the PS2 port of TGM2 cancelled).
The TGM series has an official Twitter account here
, although it is primarily in Japanese. It also has an official social media hashtag, #tgm_series.
In 2019, Arika would return to Tetris games with Tetris 99, a Tetris game with a 99-player battle mode. Although it contains references to the TGM series, it is not connected to its predecessor.
Despite the franchise's dormancy, Arika vice president (and TGM mastermind) Ichiro Mihara revealed on November 1, 2021 that the company is planning to announce ports
of the TGM games (although which ones were not specified). As of December 2022, the original TGM's port has been released on Nintendo Switch and PS4, followed a few months later by a port of TAP, and a potential fourth TGM game may be considered depending on the success of the ports.
---
The Tetris: The Grand Master series provides examples of:
---
---