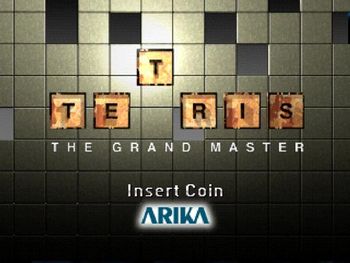 Thought you were awesome at Tetris? Guess again.
Tetris: The Grand Master is a series of challenging Tetris games developed by Arika, intended for advanced players.
The TGM series plays a bit similar to usual Tetris games (specifically, Sega's versions of the game). However, there are a few mechanics that alter the game dramatically. Leveling up, for instance, is no longer just done through clearing lines; instead, every piece you drop will raise the level counter by one, as well as clearing lines (one per line clear). However, level numbers also take on a different meaning: the game speeds up only at particular levels, rather than with every level. The level stops going up at level n+99, where n is a multiple of 100; at that point you must clear a line to level up.
At level 500, the game's drop speed maxes out and pieces drop instantly in what is known as "20G"note 20 grid cells per frame (1/60th of a second). The playing field is 20 blocks high. Do the math. speed, forcing you to slide pieces along the stack (or ground) into place. And in newer games, some of the game's finer details are adjusted to make the game harder. 20G went on to be featured in other, more mainstream Tetris games, such as Tetris DS, but most of those games had a mechanic known as "infinite rotation", so in practice, the drop was instant but the lock could be delayed indefinitely for each piece; this is not the case in TGM. In speed-ups after 20G, the time that the pieces take to lock decreases. The game ends at level 999.
Another major mechanic is the grade system. Instead of being ranked by score, you are given a grade, typically starting at 9 and going down to 1, followed by S1 through S9, followed by the titular Grand Master rank (or filler grades between S9 and GM, depending on the game). In the original TGM, Scoring Points will raise the grade, but newer installments use more complex mechanics to increment one's grade.
The series spans multiple games:
Tetris: The Grand Master (Arcade, 1998; aka TGM1) — The first game in the series. The easiest in the series (both to complete and to achieve Grand Master rank), though that isn't saying much. Was going to be ported to the PlayStation, but it was passed over for Blue Planet Software's The Next Tetris. Recently a conversion program that allows the arcade version to run on a Playstation was released.
Tetris: The Absolute - The Grand Master 2 (Arcade, 2000; aka TGM2) — An update to the original. Offers two modes: Normal (in which you play for points to level 300), and Master (which has a tougher grading system than TGM1 and continues increasing in difficulty after level 500).

Tetris: The Absolute - The Grand Master 2 PLUS (Arcade, 2000; aka TGM2+ or TAP) — An upgrade to TGM2 that adds two new modes: TGM+ (in which garbage rises from the bottom at intervals), and the infamous T.A. Death mode (in which 20G kicks in as soon as the game starts. Here's the infamous video that introduced many Westerners to TGM.) TAP was going to be ported to the PlayStation 2, but legal issues with TAP's emulation in MAME caused Arika to not publish it.
Tetris with Cardcaptor Sakura - Eternal Heart (PlayStation, 2000; aka EH) — A console-exclusive Licensed Game that uses the rotation system of TGM2. Rather than play Tetris for a grade at high speed, the emphasis is clearing seven jeweled blocks in a Tetris board as quickly as possible (at minimal speeds) over a number of stages, similar to the Sega-produced Tetris derivative Flash Point. A combined time limit for all stages is imposed in the story mode. This mode of play has been carried over into Tetris: The Grand Master 3 as Sakura mode (with Serial Numbers Filed Off, obviously).

Tetris: The Grand Master 3 - Terror-Instinct (Arcade, 2005; aka TGM3 or Ti) — Makes a few changes to the series' signature rotation system and incorporates the Super Rotation System (the rotation system used in "guideline" Tetris games). Revises the Master mode grade system and implements a "qualified grade" system that indicates your (roughly) average performance, similar to those of martial arts classes. T.A. Death has been replaced by Shirase mode, which has faster speeds and goes up to level 1,300 instead of 999. For those who aren't too bright at TGM, there's Easy mode, which has a slower speed curve and a special scoring system, as well as Sakura mode, which is based on the "target block"-clearing system from Tetris with Cardcaptor Sakura: Eternal Heart. This is also the game on which the infamous "Invisible Tetris" video was recorded.
Tetris: The Grand Master ACE (Xbox 360, 2006; aka TGMA or simply ACE) — The only console release of TGM thus far. (A port of TAP for the PS2 had been previously in the works but was scrapped.) Due to Executive Meddling on The Tetris Company's and Microsoft's parts, ACE's gameplay deviates strongly from other TGM games.
Tetris: The Grand Master 4 - The Masters of Round (Arcade, canceled; aka TGM4 or (T)MoR) — The latest game in the TGM series, due to come out in 2010. The new "easy" mode in this game is Konoha mode, a simplified "big" mode in which the goal is to completely clear the playfield of blocks as many times as possible. Its answer to Ti's Shirase mode is Rounds, which goes up to at least level 2,500 and adds new gimmicks every several hundred levels. A location test was held in late 2009, but the game was canceled in 2010 for unclear reasons. The series seems to have died with this, until...
TGM2015 (Arcade, release date TBD, working title) — An in-development TGM title that recycles many elements from TGM 4. A location test was held in the US in June 2015 and in Japan a month later, and had the Konoha and Rounds modes available. However, as of July 2016, no news of an actual release followed.
Unfortunately, if you want to play TGM, especially legitimately, you're not going to get a chance so easily. None of the arcade games have had ports (as mentioned above, TGM2 almost got ported to the PS2), and TGM ACE, as mentioned above, isn't exactly a TGM game. There are, however, clones that allow you to simulate the TGM series:
NullpoMino — A Java-based open-source clone with a wide variety of modes (not just TGM) and customization, as well as online multiplayer.
Texmaster — A more minimalist clone aimed simply at simulating TGM modes. Perhaps noteworthy for inciting the anger of Arika (and allegedly getting the PS2 port of TGM2 cancelled).
The TGM series has an official Twitter account here
, although it is primarily in Japanese. It also has an official social media hashtag, #tgm_series.
In 2019, Arika would return to Tetris games with Tetris 99, a Tetris game with a 99-player battle mode. Although it contains references to the TGM series, it is not connected to its predecessor.
Despite the franchise's dormancy, Arika vice president Ichiro Mihara revealed on November 1st, 2021 that the company is planning to announce ports
of the TGM games (although which ones were not specified), and a potential fourth TGM game may be considered depending on the success of the ports.
---
The Tetris: The Grand Master series provides examples of:
---
---