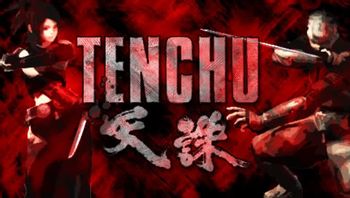 Live By Honor. Kill By Stealth.
Tenchu is a series of stealth based games originally developed by Acquire and later K2 LLC and FromSoftware that features a Ninja duo from the Azuma clan. It started in 1998 and has had several sequels across various consoles that expand its story. The story starts with a demonic sorcerer named Mei-Oh trying to take over the land of Lord Gohda whom the two ninja, Rikimaru and Ayame serve. The series is rather liked amongst those who have played it and some games contain a humorous dub version of the story that is completely different.
Stealth gameplay is the standard fare for the genre- sneaking, assassinating people while they are unaware, and so on. What sets it apart is the setting, which is feudal Japan. Tools available to the player are all stock Ninja tools, though the open nature of the levels and their multi-purpose uses means that experimentation can be both rewarding and fun. In addition, getting spotted isn't really a big deal, as the player characters can actually fight back rather well even if they're spotted. This is also one of the few games that actually somewhat discourage a Pacifist Run, with bonuses being rewarded to players that assassinate every enemy in the level. All of this comes together to form a rather arcadey stealth game, facilitated by the games multiple unlocks and short run times.
Aside from the games listed further below, the Tenchu franchise also include these titles:
This video game contains the following tropes:
open/close all folders
In General
Stealth Assassins
Birth of the Stealth Assassins
Tenchu 2: Birth of the Stealth Assassins is a Prequel to the first, focus on the two characters' graduation into ninjas and their first assignments serving Gohda. Introduced the Level Editor mode (originally used in Shinobi Gaisen) and the traditional third secret character.
Wrath of Heaven
Tenchu 3: Wrath of Heaven is a direct sequel starting where the first game left off. Each character has their own individual and independent storyline, which are quite different and contradictory between them. They all center on a new Big Bad, the dark wizard Tenrai, and his attempt to take over Gohda's land by either claiming Lord Mei-Oh's power (Rikimaru's story) or a set of three MacGuffins (Ayame's). The first entry in PlayStation 2, Wrath of Heaven refined the gameplay of the first two and introduced several new features, including a set of ninja skills to unlock, extra weapons beyond the basic ones and the ability to wield enemy weapons. It also included a set of co-op missions and a Versus Mode with several of the bosses playable. It later got a remake for Xbox titled Tenchu: Return from Darkness, with added stages and online capabilities.
Fatal Shadows
Tenchu: Fatal Shadows is an Interquel set between the first and third game, focusing on Ayame's mission in enemy territory and the exploits of a former ninja, Rin, looking for the ones who burned down her secret ninja village. It's very similar gameplay-wise to Wrath of Heavens and features a few small new additions, such as enemy-based Stealth Kills.
Shadow Assassins
Tenchu Z
Tenchu Z is a distant sequel set some unknown time after the other games. Rikimaru is now an NPC and your teacher, since you can create the protagonist. Only game in the series to make use of a character creation system. Also the only one where Ayame has missed the cut.