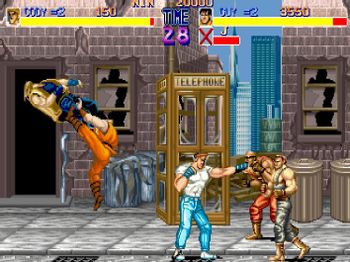 The "Beat 'em Up" genre is a cousin to the Fighting Game genre popular since the eighties, with their Trope Codifiers Double Dragon and Golden Axe. Most games that fall under this genre have very little in the way of story, and lots in the way of bash-the-other-guys'-heads-in-with-your-fists action. The Co-Op Multiplayer in these games used to be a highly popular feature.
These games eschew one-on-one duels for the protagonist (and a friend or two) rampaging across the map, handing out unmerciful beatdowns to every group of gangsters, mutants, robots and ninjas they meet, acquiring weapons from their environment and finding cooked chickens inexplicably hidden inside arcade cabinets. Many Beat 'em Ups include weapons and magical powers.
In Japan, Beat 'em Ups of the Double Dragon or Final Fight 2D variety are known as "belt-scroll" action games (ベルトスクロールアクションゲーム) due to their semi-isometric perspective and the fact that the characters are always facing left or right despite being able to move up and down as well. Games like Kung-Fu Master (which is completely side-scrolling) or Beat Down: Fists of Vengeance (which is in 3D) are not considered belt-scroll games.
Known as Beat 'em All in France (in English) and Russia, due to the various occurrences in side-/belt-scrolling games where the game won't scroll any further until all enemies are down.
A large number of "urban" themed beat 'em ups have the same basic plot - a female friend/lover/relative of one of the playable characters is kidnapped by a member of a criminal gang for some reason and the protagonist(s) have to travel through a number of areas of the city, beating the crap out of gang members and fighting a boss at the end of each area before kicking the ass of the gang leader and rescuing the girl.
3D Beat 'em Up games are better known as Stylish Action or Character Action Games. Also see Hack and Slash, which is more or less the exact same genre but with weapons; therefore, expect to see several overlapping examples.
---
Games in this genre include:
<!—index—>
open/close all folders
#-L
M-Z
Licensed video games
For a time, it was common for licensed games to be made in this format. Some of the more famous ones include:
Afro Samurai

Afro Samurai 2: Revenge of Kuma

Alice in Wonderland (2010), an Action-Adventure game where you play up to five characters and can swap between them in combat.
Alien vs. Predator: a single-player SNES game by Activision where you control a lone Predator.

Alien vs. Predator: a three-player arcade game by Capcom with human and predator player characters.

Asterix, a two-player arcade beat 'em up by Konami.
Astro Boy: Omega Factor, a Game Boy Advance game based off of the Astro Boy 2003 anime series.
Batman, from various sources to various consoles:
Batman: Arkham Series - Often considered the best Batman games ever made. Also arguably the most famous modern example. Overlaps with Stealth-Based Game.
Bébé's Kids, the craptastic Super NES game adaptation of an already craptacular animated movie.
Cliffhanger - based on the 1993 Stallone flick with the same name
Cowboy Bebop: Tsuioku no Serenade
The Crow: City of Angels has a game made for the PlayStation. It's... not very good.
Dragon Ball GT Transformations for the GBA
Dungeons & Dragons: Chronicles of Mystara

Tower of Doom
Shadow Over Mystara

8th Man - based on the manga
Fantastic Four - the original adaptation for the PlayStation
Fist of the North Star: Ken's Rage (a.k.a. Hokuto Musou)
Guilty Gear Judgement
Hyakujuu Sentai Gaoranger and Ninpuu Sentai Hurricaneger, 3D beat 'em ups for the PlayStation.
Hi Hi Puffy AmiYumi: The Genie and the Amp
Hook, a four-player arcade game by Irem
Hyakujuu Sentai Gaoranger have a game like this for the PlayStation
Islands of Wakfu, a mixture of beat 'em up and shoot 'em up games that's a Prequel to Dofus and Wakfu.
Jackie Chan Adventures: Legend of the Dark Hand - a GBA-exclusive game based on the cartoon
Jim Lee's Wild CA Ts 1995: Covert Action Teams - adapted from the comic of the same name
Janggun-ui Adeul / Street Hero, based on the 1990 Korean blockbuster about gangster Kim Du-han's rise in his youth.
Judge Dredd, the unreleased Midway arcade game
Kamen Rider for the Super Famicom.
The Xbox adaptation for Kick-Ass 2, released a full year after the movie
Kishin Douji Zenki FX: Vajra Fight, an obscure game for an equally obscure manga
Marvel Super Heroes: War of the Gems: Spiritual Successor of X-Men: Mutant Apocalypse, based on The Infinity Gauntlet Story Arc.
Mazinger Z: Based on the popular Super Robot anime, licensed for the Super NES
Mazin Saga: Mutant Fighter for the Genesis
Middle-earth: Shadow of Mordor, a The Lord of the Rings adaptation that takes many cues from the Arkham series. Also Action RPG
The Naruto: Ultimate Ninja series: Developed by the same company that made Asura's Wrath, the series also mixes it up with Fighting Game and Rail Shooter elements.
<!—/index—>Power Rangers<!—index—>
The Punisher, a two-player arcade game by Capcom co-starring Nick Fury; also released for the Genesis.
Sailor Moon had a few alongside the fighting and puzzle games; It can be very entertaining to see tiny girls like Mercury and Moon bust out DDTs and suplexes.
Scott Pilgrim vs. the World: The Game, the very same Scott Pilgrim comic book series, in the form of a River City Ransom-style brawler.
Genseishin Justiriser: Souchaku Chikyuu no Senshitachi
Shrek 2, which mixes platforming mechanics into the beat 'em up genre.
Space Jam: A New Legacy has a cartoony Beat 'em Up game made for the XBox made in conjunction with the movie.
Spider-Man games, also Wide-Open Sandbox and/or Action-Adventure:
The Simpsons, a beat 'em up game based on the popular TV show by Konami.
Star Wars: The Force Unleashed I & II
Superman, two different beat 'em ups: a 1988 Taito arcade game, and The Death and Return of Superman for Super NES and Genesis.
<!—/index—>Teenage Mutant Ninja Turtles<!—index—>
The Tick have one for the Sega Genesis
Tiny Toon Adventures: Buster's Bad Dream for the Game Boy Advance, which used a gameplay engine that would later be used in Astro Boy: Omega Factor.
Tom-Yum-Goong - yes, there exists a game adaptation of this Tony Jaa movie.
Tonight We Riot, which also puts some Real-Time Strategy elements into the mix.
Toxic Crusaders has a few rather cartoony arcade beat 'em ups based off the cartoon.
Transformers: Devastation: A beat'em up being developed by PlatinumGames.
UFO Kamen Yakisoban: Kettler no Kuroi Inbou - the tie-in game which was supposed to promote the advertisement, even though most of the time it's the other way around
Ultra Toukon Densetsu, based on the Ultra Series. Choose one of three Ultras to beat up a literal army of kaiju and aliens.
The Warriors: Based on the seventies B-movie of the same name. Able to be played by either one or two players, it also has an unlockable minigame if you beat it. Titled Armies of the Night, it features an homage to Double Dragon, Streets of Rage and a few others and feels more like a classic side scrolling beat 'em up.
Way of the Passive Fist: An indie title by Household Games, it plays more like a rhythm game in which you have to recognize enemy attack patterns and parry accordingly, knocking them over when tired out.
X-Men (1992), a six-player arcade game by Konami loosely based on the Pryde of the X-Men animated pilot featuring Cyclops, Wolverine, Storm, Colossus, Nightcrawler, and Dazzler.
X-Men Legends and its sequel, X-Men Legends: Rise of Apocalypse, as well as its spiritual successor series Marvel Ultimate Alliance, are more recent additions to the genre.
X-Men: Mutant Apocalypse, a beat'em up and platform game by Capcom, based on the popular X-Men comic, with a few elements from the 90s cartoon series.
X-Men: The Official Game: The Nightcrawler sections are this trope combined with stealth while Wolverine levels lean more into Hack and Slash territory.
The game based on X-Men Origins: Wolverine is also this.
We Shall Wake, a high-speed action game where you control an incredibly powerful and fast super-robot.
Yainsidae/Age of Wanderer, based on the first half of the 2002-2003 hit Korean Drama about Kim Du-han's life.
<!—/index—>
---