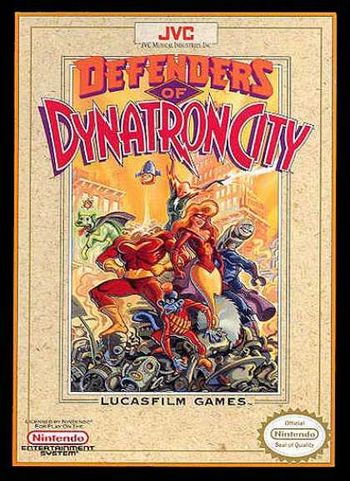 Defenders of Dynatron City started out as a 1992 video game for the NES developed by Lucasfilm Games. It also got a six issue comic and an animated pilot to help with promotion... And then people actually played the game. To cut a long story short, the play experience everything had been building up to put a damper on whatever future the property might've had.
The setting is Dynatron City, the futuristic home of Proto-Cola, a drink that causes mutation, much to the delight of the consumer. Unfortunately, that's not what the Mad Scientist that created it was intending, so he falls back on the old standard of building a robot army to scare away city residents.
Some stuff happens and suddenly there is a team of super powered construction workers there to fight the bad guy. Including Jet Headstrong, Buzzsaw Girl, Toolbox, Ms. Megawatt, Monkey Kid, and Radium Dog.
Fun fact: The above image, as well as some of the comic series, were done by Steve Purcell early in his career with LucasArts.
---
Tropes appearing in Defenders Of Dynatron City include:
---